World leaders have been paying special tributes to former President Nelson Mandela who died today, aged 95.
US President Barack Obama led the way, describing Africa's most respected statesman as 'influential, courageous and profoundly good'.
"Through his fierce dignity and unbending will to sacrifice his own freedom for the freedom of others, he transformed South Africa and moved all of us," Obama said in a televised White House address.
David Cameron, the British Prime Minister said "a great light had gone out" following Nelson Mandela's death, revealing that flags would be flown at half-staff at his Downing Street Office.
"A great light has gone out in the world," said a statement released by Cameron.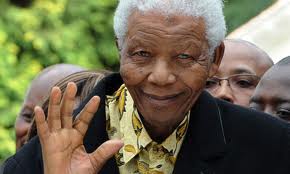 "Nelson Mandela was a towering figure in our time; a legend in life and now in death — a true global hero.
"Across the country he loved they will be mourning a man who was the embodiment of grace," he added.
"Meeting him was one of the great honours of my life. My heart goes out to his family – and to all in South Africa and around the world whose lives were changed through his courage.
"I've asked for the flag at No.10 to be flown at half mast."
Ed Miliband, the opposition leader in Britain said the world "had lost the global hero of our age".
"Nelson Mandela showed us the true meaning of courage, hope, and reconciliation," he wrote on Twitter.
Shadow finance minister Ed Balls also took to the blogging site, writing: "Seeing Nelson Mandela walking free is one of the great moments of my life – proving leadership and hope can triumph. Thank-you. RIP"
Irish prime minister Enda Kenny praised "gift" of Mandela, and offered the country's deepest sympathies to the people of South Africa.
"The name Mandela stirred our conscience and our hearts. It became synonymous with the pursuit of dignity and freedom across the globe," he said in a statement.
"As we mark his passing, we give thanks for the gift of Nelson Mandela. We ask that his spirit continues to inspire, guide and enlighten us as we strive to bring freedom and dignity to the family of man, our brothers and sisters, across the world," he added.
Australian Prime Minister, Tony Abbott hailed Mandela as "a truly great man" .
"Nelson Mandela was one of the great figures of Africa, arguably one of the great figures of the last century," Abbott told Fairfax radio, referring to him as the father of modern South Africa.
"A truly great man," he said.
"And while I never met him, I did read that book A Long Walk To Freedom and I guess the impression we get of Nelson Mandela is someone who suffered but was not embittered but ennobled through that suffering."
For United Nations Secretary general, Ban Ki Moon, Mandela was a "giant for justice" who had inspired freedom movements the world over.
"Many around the world were influenced by his selfless struggle for human dignity, equality and freedom. He touched our lives in deeply personal ways," Ban told reporters.
Mandela's death was announced by President Jacob Zuma on national television earlier Thursday.
"He is now resting … he is now at peace," a visibly emotional Zuma said. "Our nation has lost its greatest son."
A sombre Zuma told his fellow South Africans: "Our people have lost a father. Although we knew that this day would come, nothing can diminish our sense of a profound and enduring loss.
"His tireless struggle for freedom earned him the respect of the world.
"His humility, his compassion and his humanity earned him their love. Our thoughts and prayers are with the Mandela family. To them, we owe a debt of gratitude. Our thoughts are with his wife, his former wife, with his children, his grandchildren, his great grandchildren and the entire family."
He added that the country's thoughts were also with those who helped Mandela in the struggle against apartheid, his fellow South Africans and his many admirers throughout the world.
"Our thoughts are with the millions of people across the world who embraced Nelson Mandela as their own and who saw his cause as their cause. This is the moment of our deepest sorrow.
Zuma said that Mandela would be accorded a state funeral and that all flags would be lowered to half-staff from December 6 until after the funeral.

Load more