Jamiu Yisa
Former Vice President, Alhaji Atiku Abubakar, has described the merger of the new Peoples Democratic Party and the All Progressives Congress (APC) as a welcome development for the country's democracy to thrive.
Speaking in Ado Ekiti on Friday, shortly after a courtesy call on the State Governor, Dr Kayode Fayemi, the former Vice President who declined comment on whether he now belongs to the APC or the PDP said he pitches his tent only with democracy.
Atiku, an advocate of a two party system in Nigeria, said that the nation is gradually heading to the direction of a two party state, saying that the nation would not have true democracy unless it practices a two party system.
"I welcome the merger. It is good for democracy, I have always supported a two party system and I think we are eventually moving towards that two party system, two strong parties, not one mighty big one and very weak small ones. We will never have true democracy. I belong to democracy. Even during the military, I stood for democracy and I fought. I am a true democrat", he said.
Asked why Atiku visited him, Governor Fayemi explained that the former Vice President was in the State to attend a function and had deemed it fit to pay a courtesy call on him.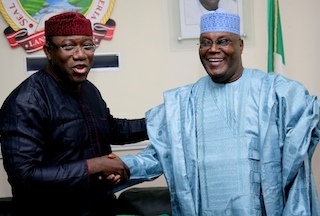 The Governor who described Atiku as an admirable leader stated that there was no question that the former Vice President has demonstrated that he is not a fake democrat as he had consistently stood with the people even against all odds.
Fayemi who asserted that anyone who believes in the a Nigerian project is his friend added that he is always ready to stand by the side of democrats so long it is to deepen the nation's democracy.
"He has always been a leader I admire and have had very good relationship with him so I am not surprised that he stopped by. Anything that can deepen democracy in this country, you will find me standing on the side of democrats.
"There is no question that former president Atiku Abubakar has demonstrated that he is not a fake democrat. He has consistently stood with the people even against all machinations and there is no question that he believes in this country. Anyone that is a democrat, who believes in Nigeria, is my friend", Fayemi said.