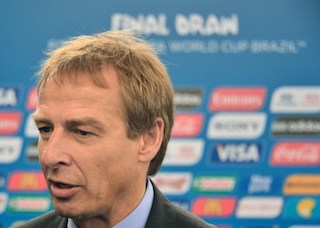 USA coach Jurgen Klinsmann has said he is relishing going up against his former assistant Joachim Loew when the Stars and Stripes play Germany at the 2014 World Cup.
"That's one of those crazy stories that football writes," Klinsmann, who made 80 appearances for Germany, told German broadcaster ARD.
Germany play the USA in Recife on June 26 in their final Group G game having also drawn Ghana and Portugal.
The Recife clash pits Klinsmann, who coached Germany to third at the 2006 World Cup, against Loew, who succeeded him as German head coach in 2006 having been his assistant at that year's World Cup.
"So, we will be meeting old friends," said Loew.
"It's already something special to have the USA in our group.
"Jurgen and I have had a very good and close relationship for a long time.
"We have always exchanged ideas on a regular basis, but that will certainly change before the World Cup match."
Klinsmann's USA team beat Loew's weakened Germany 4-3 in a friendly in Washington DC last June, when most of his stars were involved in the Champions League final, but overall the Germans lead the series with six wins and three defeats.
"That is a tough group, which couldn't have been harder," added Klinsmann, who started coaching the USA in July 2011.
"The group is a real challenge, but we have built up our self-confidence over the last two and a half years and we have the most successful year in the 100 years of US football behind us."
The USA will also play Ghana in Natal on June 16 having twice lost to the Black Stars.
"Now is the time to beat them," said Klinsmann.