A grieving South Africa started preparing Saturday for what has been dubbed 'a historic, unprecedented', funeral for Nelson Mandela.
Presidents, religious leaders and cultural figureheads from all corners of the world are expected for the funeral, which will see a cortege with Mandela's coffin pass through the streets of Pretoria on three consecutive days.
The memorials and events will culminate in Mandela's burial on December 15 in his boyhood home of Qunu.
Mandela's body will lie in state for three days from Wednesday, with the cortege taken out each morning to give as many people as possible the opportunity to say farewell.
Formal memorial events begin Sunday with South Africans invited to go to churches, mosques, synagogues and other places of worship.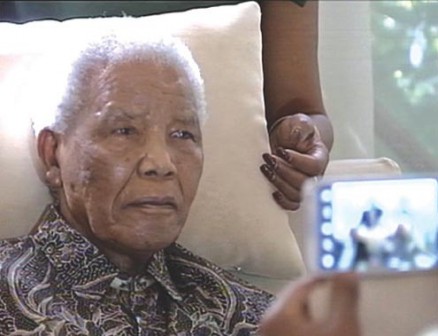 "We should, while mourning, also sing at the top of our voices, dance and do whatever we want to do, to celebrate the life of this outstanding revolutionary," said President Jacob Zuma.
On Tuesday around 80,000 people are expected to attend a memorial service in the Soweto sports stadium that hosted the final of the 2010 World Cup.
The organisational and security logistics are daunting, and the military cancelled leave for troops and reservists to help with crowd control.
Minister for the Presidency Collins Chabane stressed that people could follow all events related to the "historic, unprecedented state funeral" live on television.
"This will help to reduce congestion and potential disaster," Chabane said.
US President Barack Obama and his wife Michelle will travel to South Africa together with former first couple George W. and Laura Bush.
Another former US leader, Bill Clinton, who was in office when Mandela became South Africa's first black president, will also attend.
In a tribute shortly after the revered statesman's death was made public, Obama mourned Mandela as a "profoundly good" man who "took history in his hands and bent the arc of the moral universe towards justice".
After his release from prison, Mandela was elected president in 1994 and unified his country with a message of reconciliation after the end of white minority rule. He shared the Nobel Peace Prize with South Africa's last white president, F.W. de Klerk, in 1993.
Palestinians and Israelis, Beijing and the Dalai Lama, Washington and Tehran all paid heartfelt tribute to Mandela, describing him as one of the towering figures of the 20th century.
Flags flew at half-staff in numerous countries, including the United States, France and Britain, and at the United Nations headquarters in New York.
Once considered a terrorist by the United States and Britain for his support of violence against the apartheid regime, at the time of his death Mandela was an almost unimpeachable moral icon.
His family on Saturday compared the loss of their adored patriarch to the trauma of separation during his long incarceration in Robben Island.
"The pillar of the family is gone, just as he was away during that 27 painful years of imprisonment," family spokesman Temba Matanzima told journalists in Johannesburg.
"His presence was like a baobab tree that provided a comforting shade that served as protection and security for us," he said — referring to the massive tree with its famously thick trunk.
Mandela's close friend George Bizos spoke of his difficulty in bearing the loss of a man he knew for the better part of seven decades.
"I am 85 years old, I realise that none of us is here forever. But I have to be stoic about it," he told AFP.
"I do feel the loss of friendship that started in 1948 and has continued to usually bad times, trials, arrests, visits to Robben Island, other jails.
"We'll try and bear it. None of us are here forever."
Throughout the day, thousands of people gathered outside the residence in Johannesburg where Mandela died Thursday night, aged 95, surrounded by family and friends.
'It's not a sad day'
The mood was by turns sombre and celebratory, as some left floral tributes and lit candles, while others danced and sang in honour of their first black leader, known affectionately as Madiba.
"To me it's not a sad day. It's a day of hope, for us to be able to determine the future," said salesman Khabile Mgangame.
"We must take it from where he left off," he said.
A large police barrier blocking the road was transformed into a multi-coloured bank of flowers, flags, photos and messages.
While some focused on his role in dismantling apartheid and forging the modern, multi-racial South African state, others recalled the common touch that was one of Mandela's particular political gifts.
"I am here because we have lost our friend," said domestic worker Temperance Luthuli.
On a nearby lawn, a makeshift shrine had been set up with candles burning on a square of blackened grass, surrounded by a horseshoe of flowers.