Three persons were arrested on Sunday following fresh allegations of match-fixing in English football, authorities announced.
Britain's National Crime Agency (NCA) said it had acted on information passed on by the Sun on Sunday tabloid.
The paper said an undercover reporter had met former Portsmouth player Sam Sodje, a former Nigerian international, who allegedly boasted he'd arranged for a player in English football's second-tier Championship to get themselves a yellow card in return for £30,000 ($49,000, 36,000 euros).
It also alleged the 34-year-old Sodje, a former Reading player, had said he could rig Premier League matches and that he was preparing to rig fixtures at next year's World Cup finals in Brazil.
Meanwhile the Sun on Sunday said Oldham's Cristian Moldano apologised to Sodje after failing to get a first-half yellow card as part of an alleged betting scam during a match against Wolves on October 22.
Gamblers can make huge sums by betting on incidents such as yellow or red cards, penalties, late goals and corner kicks.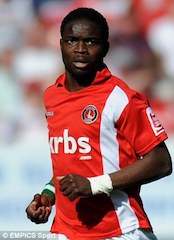 Colin Farmery, a spokesman for fourth-tier English south coast club Portsmouth, said: "If these serious allegations are true then we are extremely shocked and saddened by them, as match-fixing of any type goes to the heart of the integrity of the game.
"The player in question no longer plays for the club and we have not been contacted by the authorities, but of course we would co-operate fully with any inquiry."
League One or third tier Oldham said they had launched an internal investigation of their own.
"Oldham Athletic Football Club has been made aware of the incident and allegation surrounding one of its players, Cristian Montano," a statement issued by the north-west club said.
"The club will commence an immediate internal investigation. The club is co-operating with other agencies in this matter and cannot comment on specific facts at this stage."
The NCA, which deals with serious and organised crime in Britain, said it had been passed information about the alleged match-fixing from the newspaper.
"An active NCA investigation is now underway and we are working closely with the Football Association and the Gambling Commission," it said in a statement.
"Three people are in custody and are being questioned by NCA officers. We cannot comment further at this stage."
A spokeswoman told AFP the arrests had been made on Sunday but declined to identify the suspects, nor could she elaborate on the offences they were accused of.
Four people were charged this week in a separate NCA investigation into an alleged Singapore-based betting syndicate involving non-league English football.
Speaking about Sunday's allegations, Football League chief executive Shaun Harvey said any claims of criminal activity were treated "with the utmost seriousness".
The Football Association said in a statement that it was also "working closely" with the NCA in its latest investigation.
Sunday's allegations followed an announcement Saturday by an English non-league club it had sacked two of its players after they were charged over match-fixing allegations.
Michael Boateng and Hakeem Adelakun, both 22, were charged this week with conspiracy to defraud contrary to common law following an investigation by the NCA.
The pair's club, Whitehawk FC, from the southern English coastal town of Brighton, said that the two men had been "dismissed with immediate effect" after an emergency board meeting.
Boateng and Adelakun, both of whom hail from south London, are scheduled to appear at Birmingham Magistrates' Court in central England on December 11.
They were the third and fourth persons to have been charged in connection with an investigation into an alleged international betting syndicate.
Chann Sankaran, a 33-year-old Singapore national, and Krishna Sanjey Ganeshan, a 43-year-old British passport-holder, were remanded in custody until December 13.
Sankaran and Ganeshan, alleged to be members of a Singapore-based betting syndicate, have been accused of conspiring to defraud bookmakers by influencing the course of football matches and placing bets on them between November 1 and November 26 this year.
The maximum sentence for the offence is 10 years' imprisonment.
Meanwhile, Marcus Gayle, manager of Conference South Staines Town, claimed his players were offered match-fixing bribes just three weeks ago.
"We reported the incident straight away to the FA. That shows we have done the right thing. Our players are absolutely furious," the former Wimbledon and Watford player told BT Sport on Sunday
"I never thought match-fixing was possible but now I have changed my mind for obvious reasons, now I am convinced it's all over the place, at least that's how it appears to be to me."