Folarin Ademosu
Interim National Publicity Secretary, All Progressives Congress, APC, Lai Mohammed, has said the reason Niger State Governor Aliyu Babangida declined to join the party like his colleagues in the Group of Seven, G-7, was best known to him. Mohammed revealed, also, that embattled National Secretary of the PDP, Prince Olagunsoye Oyinlola, was not part of the merger talks.
Governor Aliyu, his Jigawa State counterpart, Sule Lamido, broke ranks from the aggrieved G-7 to remain in the Peoples Democratic Party, PDP.
Five others, namely Governors Chibuke Rotimi Amaechi (Rivers), Aliyu Wamakko (Sokoto), Rabiu Kwankwaso (Kano), Abdulfatah Ahmed (Kwara) and Murtala Nyako (Adamawa), alongside other former PDP stalwarts, as well as their supporters, who had been part of the splinter new PDP, defected to the APC.
"He (Governor Aliyu) must have his reason for not joining the merger. But, you see, in politics one day could be too long, not to talk of one week or one year," Mohammed said in an interview Friday in Lagos.
Of Oyinlola, Mohammed stated: "Oyinlola was there for whatever consultations he came to make with his people. He was not part of us and couldn't have been because for now he is the de jure national secretary of his party."
Oyinlola, who had been sacked by a Federal High Court, in Abuja, over illegality of the congress that brought him and other members of the party's National Working Committee, NWC, into office, won a reprieve, when the Court of Appeal, last month, ruled he be returned. The PDP has challenged the ruling at the Supreme Court.
Meanwhile, government sources claimed fear of possible revocation of land titles by the Federal Capital Territory, FCT, administration was the main reason a member of the G-7 did not defect.
The said governor, who rose to the pinnacle of his civil service career before joining partisan politics, was said to have vast parcels of land in the FCT.
Watchers have described as a potent psychological weapon occasional threats by the FCT administration to either demolish houses or revoke land titles of promoters of the new PDP.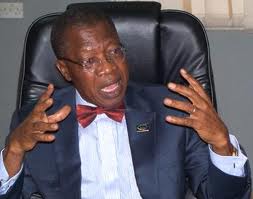 Moreover, Mohammed denied insinuation that the merger had burst at the seams in states characterised by persistent political rivalry between the PDP and APC
There have been gruntings from APC members in Kwara, Kano, Sokoto and Adamawa States on purported hijack of the party machinery by the new PDP entrants.
The APC spokesman explained that interim administrations, comprising both old and new members of the APC, have been put in place in all the states.
He attributed the complaints to distrust and mutual suspicion.
"In some places (where the complaints are made) it is a matter of ego, where in other it is deep-rooted enmity or foes of yesterday being asked to become friends," Mohammed explained.
Fola Ademosu Jr.