President Goodluck Ebele Jonathan declared Monday in Abuja that the Federal Government has no intention of interfering with the structure and processes of the impending national dialogue.
Speaking at an audience with leaders of Ohaneze Ndigbo and the South-East Geo-Political Zone at the Presidential Villa, President Jonathan said that his administration has left it to Nigerians to determine the framework, content and process of the dialogue.
"If you listen to the radio, watch television and read on-line, you will realize that Nigerians are talking. We listen and read the commentaries. But all the discussions and ideas need to be harmonized. We must come to a point where we can move in one direction,'' President Jonathan said.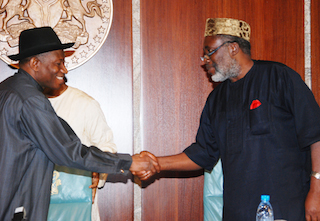 On worries over the time-frame for the national dialogue, President Jonathan said that the process would definitely be completed well before the 2015 elections.
He disclosed that the Presidential Advisory Committee on the National Dialogue will soon present its report to him, having concluded its nationwide consultations.
The President and ministers, who were in attendance at the audience, also briefed the South East leaders on his administration's developmental efforts in various sectors including aviation, agriculture, transportation and power.
He assured the delegation that his administration will do all within its powers to ensure that projects such as the Second Niger Bridge, the rehabilitation of South East roads and expansion of the national rail network to the zone are completed on schedule.
The President of Ohanaeze Ndigbo, Chief Gary Enwo-Igariwey, congratulated the President for initiating the upcoming national dialogue.
He pledged the South East's support for the process and assured the President that Ndigbo will make meaningful contributions to move the country forward in unity.