Governor Adams Oshiomhole of Edo State Wednesday presented a budget proposal of N159.2 billion for the 2014 fiscal year, to the State House of Assembly.
The 2014 budget is about N5 billion higher than 2013 budget, which was N154 billion.
Christened "Budget of Renewed Hope", the budget is made of N85.6 billion (53 percent), capital expenditure and N73.6 billion (46.2 percent) recurrent expenditure.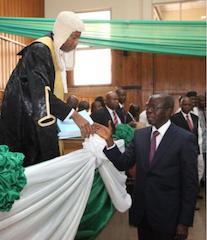 The governor while presenting the budget, explained that the N115.6 billion recurrent revenue component of the budget will be financed from statutory receipt of N65.3 billion; internally generated revenue of N25.1 billion; aids and grants of N4.9 billion; value added tax of N8.2 billion; share of excess crude account of N6.4 billion and capital receipt of N5.6 billion.
According to him, the N73.6 billion recurrent expenditure component of the budget, consists of personnel cost, N31.2 billion; overhead cost,N16.4 billion; pension and gratuities, N5.0 billion; statutory office holders salaries, N0.250 billion and public debt charges, N20.6 billion.
The sectoral allocation of the budget indicates that road construction has the lion share of N24 billion; education, N15 billion; environment, N10.3 billion; health, N8 billion and agriculture, N1.5 billion.
Oshiomhole explained that the goals of the budget was to completion of on-going infrastructural projects; provision of qualitative and affordable education and health-care delivery services; creation of investment friendly environment for a private sector driven economy; pursuit of human capital development; development of agriculture for employment generation, self-sufficiency and self-reliance in food and raw material production and intensification of Internal revenue generation, collection and administration.
"The outlook for our dear State in 2014 is very promising, despite the drop in inflows from the Federation Account and Internally Generated Revenue we have witnessed in 2013. We have a sound development strategy and we have drawn important lessons in the process of implementation of our projects and programmes over the years. We also have in abundance the political will, and critical mass of support to drive our development agenda, sustain the gains we have so far made and break new grounds," he said.

Load more