Simon Ateba/Aviation correspondent
Simon Ateba/Aviation correspondent
Nigeria's largest airline, Arik Air, on Saturday, celebrated its seventh anniversary with a brand new Bombardier's next generation CRJ 1000 aircraft, the first of its kind in Africa.
The latest acquisition brings the airline's fleet size to 26 aircraft, all of them less than eight years old.
"As we mark our seven years of uninterrupted service, we also look forward to the next chapter of our history in revolutionising air travel and we do so by proudly unveiling the newest member of Arik's modern fleet – Bombardier's next generation CRJ 1000 regional jet," said Dr. Michael Arumemi-Ikhide, Arik Air Group Chief Executive Officer and son of the airline's chairman, Joseph Arumemi-Ikhide.
"Moreover, as in the past, Arik Air is humbled by its status as the Canadian based manufacturer's African customer for the CRJ 1000," he added during a speech delivered at a grand party to unveil the new aircraft.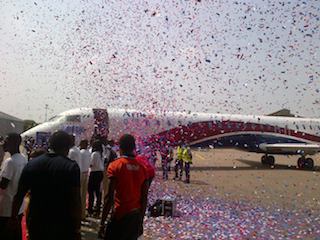 He said the transaction, and other joint-venture collaborations such as investment in maintenance support facilities, demonstrates Bombardier's depth of confidence in both Arik Air and Nigeria's burgeoning aviation sector.
Raphael Haddad, Vice President sales, Africa and Middle East, Commercial Aircraft at Bombardier Aerospace, who was also at the unveiling ceremony, said the new aircraft is very reliable and flies in many destinations around the world.
"This CRJ 1000 is our latest born in our CRJ family. It is highly reliable, highly economical and very good environmental footprint in terms of noise, fuel burnt," Haddad said.
Haddad, however kept mum when asked how much did the new aircraft cost.
But aircraftcompare.com puts the price of the aircraft at over 46 million dollars (over N7 billion).
Bombardier's 100-seat CRJ1000 NextGen regional jet is both the latest and biggest member of the CRJ series, but retains many of the physical characteristics of its relatives.
At a length of 39.1m (128ft), the CRJ1000 represents a 2.9m stretch of the CRJ900 and features a 7.5% trailing-edge extension over its 88-seat predecessor, a 0.66m wing-tip extension, reinforced landing gear and carbon, instead of steel, brakes.
The airline says on its website that it is Bombardier's last exercise in elongating the CRJ, which began life in 1989 when the Canadian airframer stretched its Challenger business jet to produce the General Electric CF34-powered CRJ100.
Arik Air began operations on 30 October 2006 with three brand new Bombardier CRJ 900 aircraft and flew only four daily flights between Nigeria's commercial city of Lagos to the country's capital of Abuja.
Arik had taken over the former Nigeria Airways facilities in Lagos on 3 April 2006 three years after Nigeria's national carrier was liquidated.
Many dignitaries attended the event, including the Chairman Senate Committee on Aviation, Hope Uzodinma, Cardinal Olubunmi Okogie, Chairman Africa Independent Television, Raymond Dopesi, Silverbird Chairman, Ben Murray Bruce, representatives of the Vice President and Nigerian President as well as Canada Deputy High Commissioner to Nigeria.