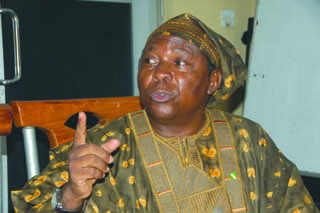 While the whole world mourns the passage of Nelson Mandela, it is only proper to recognise his qualities and eulogise them. Very important is the need for all to identify and internalise the reasons why he was loved and considered as an hero of our time that will be remembered as Mahatma Ghandi, who must have influenced his life tremendously, as well as our Murtala Muhammed of blessed memory.
Awed by the larger-than-life stature of the departed leader, the President said: "Mandela is a rare character that those of us who are politicians need to learn from so that we will imbibe some of his traits and do better for our country." Good advice, not only to Nigerian leaders but to politicians all over the world.
But in my humble opinion, Mr. President veered off the mark when he stated emphatically that Nigerian politicians were "tiny men" who "lacked the virtues of great men". He also implied that no Nigerian leader, past or present, have not exhibited the virtues of great men. This is where I beg to disagree. I am sure the President understands that by that innocuous statement many Nigerian leaders have been brushed to the dustin of history which, unfortunately, is not being taught in this country. This, I'm sure, is not the intention of the President.
The collective wisdom of the Federal Republic of Nigeria as expressed in our country 's Anthem recognises the labour of our heroes past shall not be in vain.We recognise that we have heros and heroines. Their very decisive contribution not only hold together the fabric of our country but bestow respectability on her internationally.
Nigeria has had heroes who have impacted greatly on the fortunes of the Federal Republic of Nigeria and Africa as we currently know it. In the front seat is General Murtala Muhammed who, though a military leader, can be credited with bold leadership and foresight that saw to the political freedom of the entire southern African region. At a time when the contribution of most other countries to the freedom struggle was limited to rhetorics and slogans, the Federal Republic of Nigeria, under General Murtala Muhammed, stuck out its neck, playing her destined decisive role, militarily, politically and economically in the pursuit of the dignity of the black race. His unequivocal support for the patriotic forces in such countries as Guinea Bissau, Angola, Namibia and Zimbabwe saw to their eventual political and economic emancipation. It is safe to say that the seed that General Murtala Muhammed planted eventually germinated in freedom for that geopolitical region. Little wonder, then, that the Federal Republic of Nigeria, a country in West Africa, thousands of miles away from southern Africa, was listed prominently among the Frontline states.
And the cost was indeed steep, politically and economically, both to his regime and to the Federal Republic of Nigeria. In walking the talk, General  Muhammed incurred the wrath of the western colonial powers, and eventually paid the supreme price. But it is safe to say that without his sacrifice, the might with which the former colonies fought for and, later, negotiated their independence would never have been attained. By inference, someone like Mandela, who would later distinguish himself as the ultimate statesman, might never have got the opportunity to negotiate freedom for his country had the likes of General Murtala Muhammed not provided the moral and hardware muscle that formed the foundation of the struggle. And regardless of the picture of magnanimity that the West tends to paint, only naive Africans believe they were willing to negotiate freedom if it would not come at an exceedingly lower cost than keeping African nations at gun-point bondage.  Happily, General Murtala Muhammed's place as an African hero is accepted across Africa. Yes, the humanity of Madiba is not under question, those of us who were in the smokey rooms for many nights for the restoration of the dignity of Nelson Mandela and the black race knew very well that even up till today, the tactics of the whites is to protect, 24/7, the interest of the whites alone in any engagement with them.
On the home front, Muhammed was no slacker. Just like Mandela did almost two decades after, Muhammed  would not have claimed that he was a saint. He strove to live to the dictates of higher ideals. In this respect he purged the country of perceived ills and laid the foundation for a saner, egalitarian and more prosperous society. Certainly the orchestras of the capitalist world of his time led by Henry Kissinger saw Murtala Muhammed's violin as a destroyer of their harmonic music based on the exploitation and dehumanisation of Nigerians and, indeed, Africans. General Murtala Muhammed initiated the policy of nationalisation of many foreign corporations in order to give effect to his idea of restoration of the dignity of the black race. He showed boldness in addressing the issue of finding a suitable capital for Nigeria that is secured and defensible as well as promote national unity. Abuja  therefore became the capital territory all Nigerians can lay claim to. But even as Mandela's vision was being blurred in his lifetime, Muhammed, though snatched away prematurely via a widely condemned coup, was lucky not to have witnessed the bastardisation of his dream. But Nigeria has been the biggest loser.
Another political figure whose stature many Nigerians tend to underrate is Chief Olusegun Obasanjo. The first military ruler in Africa to draw a time-table for return to civilian rule and wholeheartedly stick to it, voluntarily relinquishing power in 1979, he made a return to the seat of power, this time via the ballot box, in 1999. Political successor to Murtala Muhammed, he maintained Nigeria's hardline stance against apartheid and confronted the western colonial powers.
After he relinquished power as a military ruler, his influence extended beyond the shores of Africa. A prominent member of the Eminent Persons Group (EPG) established at the 1985 Commonwealth Heads of Government Meeting (CHOGM) to investigate apartheid in South Africa, which reported ahead of the special 1986 CHOGM: recommending economic sanctions against South Africa, Obasanjo was even in contention for Secretary-General of the United Nations. And as civilian president Obasanjo apparently ran the most all-inclusive government Nigeria has ever had in terms of ethnic spread. While Obasanjo, too, was flawed, I believe he was only human and his mistakes should not conscript him to political oblivion. That said, the country boasts potential leaders like Emeka Anyaoku, former Secretary-General of the Commonwealth, and a crop of yet-to-be-opportuned bright minds.
National heros/heroines all have stages from where they emerge. Mandela' s stage was white and black domination crushing real democracy and free society in which all work and live in harmony and equal opportunity. In essence he lived for the continuous improvement of the asset of common humanity, which domination in all forms depreciates. General Murtala Muhammed's stage was Africa and the Federal Republic of Nigeria that had been scarred and marred by thongs of man's inhumanity to man, hatred, egocentric dispositions, tribalism, religious bigotry etc that nearly led to her dismemberment. He fought and paid the supreme sacrifice so that the Federal Republic of Nigeria may remain as one, with the dignity of Nigerians guaranteed and continually appreciating, and thereby increase the asset of common humanity. The white-dominated world and their agents in Africa who General Murtala Muhammed  challenged frontally would not sing hallelujah chorus in his name and refer to him as a Nigerian hero for seeking a plateau of life for all.
–  Ambassador Adegboyega Christopher Ariyo, a retired career diplomat and former Nigerian High Commissioner to Namibia, is the Looja Of Ibala (Onibala)-elect of Ijeshaland