Thirty-seven members of the People's Democratic Party, PDP in the House of Representatives, this morning, defected to the All Progressives Congress, APC.
According to the lawmakers, they are joining the APC because of what they described as division and factionalisation within the PDP.
The decampees further stated that their defection to the APC is in obedience to Section 68, sub-section 1(g) of the constitution.
"We are joining the APC due to division and factionalisation within the PDP. The defection is also in obedience to Section 68, sub-section 1(g) of the constitution", the statement read.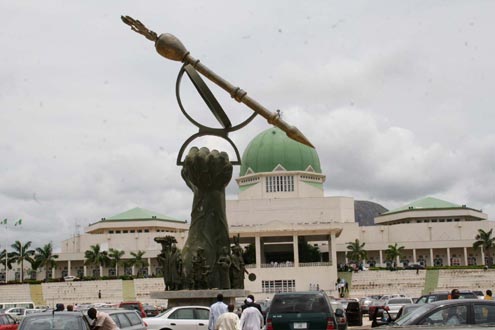 The defection stripped the PDP of its majority in 360-seat chamber.
The PDP had controlled the lower house in Africa's most populous nation and top oil producer since the end of military rule in 1999, but was left with just 171 lawmakers after Wednesday's announcement.
Jonathan has been haemorrhaging support in recent weeks, including the defection of five powerful state governors to the APC last month.
Publicly, the president's rivals have said his political troubles are tied to poor job performance, including galloping corruption and a failure to improve woeful electricity supply.
But analysts argue the real divisions are linked to Nigeria's 2015 polls.
Jonathan has so far refused to declare his plans but is widely expected to seek re-election, even as he has faced mounting calls to stand aside.
He has been accused of breaking an unwritten rule in the PDP which calls for the presidency to rotate between Christians from the south, like Jonathan, and Muslims from the north.
Jonathan, an ex-vice president, took the top job in 2010 after the sudden death of his predecessor Umar Musa Yar'Adua, a northern Muslim who served less than three years.
The practical impacts of the power shift in the house were not immediately clear as Nigeria has not had a divided federal government in decades.
Lagos State University lecturer, Dapo Thomas said the developments will hurt the PDPs image as Nigeria's natural ruling party.
"The defection will shake the root and foundation of the PDP," the political science lecturer said.
Laja Oduka, a political scientist at the University of Lagos, told AFP that the opposition will use the lower house "to torment the PDP", including the possibility of moving forward on impeachment hearings.
"We will certainly see a shift in the balance of power," on the national stage he said.
While Jonathan's allies still hold 74 seats of 109-member upper house, Thomas said a threat to the PDP majority there could force Jonathan to make major concessions.
In past statements, the PDP has branded supporters who defect as "agents of distraction" and cast doubt on the credibility of the APC.
Since independence in 1960, Nigeria has not had a democratic change in government, with power shifting from a ruling party to the opposition.
.Additional reports by AFP