Title: THE BIG CONSPIRACY: The Travails Of A Progressive Safety Regulator In A Not-So-Progressive Aviation Industry
Author: FOLASHADE ODUTOLA
Reviewer: STEVE AYORINDE
Few issues tend to draw the attention of the media, the general public and indeed the relevant apparatuses of government like the aviation sector. In this multi-trillion dollar industry, the stakes are very high – for the operators, the regulators and the public clientele. Folasade Odutola's book, The Big Conspiracy: Travails Of A Progressive Safety Regulator In A Not-So-Progressive Aviation Industry, is one of those loaded, specially written and industry-specific memoirs that beam the searchlight on a sector upon which several thousands of lives hang daily. If the reader is tempted to view the title of Odutola's book as somewhat attention-seeking, he or she would be wrong as the reader would be drawn effortlessly into the author's convictions about the desperate issues she has chosen to bring to the fore through her apt announcement of her intention in the book's prologue.
"This publication," she writes, "seeks to reveal what, indeed, we were cooking in that aviation kitchen that got the house burnt down." And revelations, almost in torrent, is what the reader encounters in this no-holds-barred, utterly engaging treatise on the politics, rot and cut-throat intrigues that characterise the business of flying within the Nigerian airspace.
Neither space to tell her story nor the courage to put her submissions through are lacking in this voluminous publication. At the author's disposal are 824 pages of gripping, absolutely riveting narration about the state of the Nigerian aviation sector for about twenty years up to 2001 and slightly beyond. And clear indeed are her perspectives of life as an exceptionally brilliant student and worker, as a dutiful and non-compromising female executive in a rather chauvinistic society and as a victim but unbowed conquistador caught up in one of the most virulent type of office politics and frame-up.
In 15 chapters, Odutola tells one of the most engaging stories on the parlous state of the Nigerian aviation sector. At the heart of her narration is the grand conspiracy that got her removed and retired prematurely in 2011 as the Director of Air Worthiness and Operations Standards (DAOS) of the Nigerian Civil Aviation Authority (NCAA). Pungent in style and with the pace of a diarist, Odutola's mission is unmistakable – to reveal and condemn the roles played by principal characters like her former boss, the late Engineer Zakari Haruna and the former Minister of Aviation, Dr. Kema Chikwe in the grand conspiracy that got her sacked. There were others with varying degrees of complicity that colluded to edge her out, according to her, mainly because of her unbending strictness on standard procedures guiding safety matters in aircraft operations.
It is easy to follow the arguments adduced by the author as to why her forced exit might be a gain to her detractors in the interim, but a loss, if not outright danger, to the aviation industry and public safety on the long run. Copious evidence are provided chapter upon chapter on the culpability of some players within the Airline Operators of Nigeria (AON) and among several of her colleagues and subordinates whose self-serving interests, ostensibly, beclouded their sense of judgement in the unsavoury events leading to Odutola's relentless tossing around in the 1990s and her eventual ejection from service in 2001 while she was just in her 40s after more than 20 years of service as a regulator.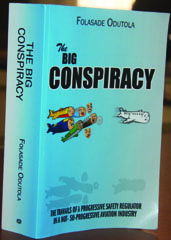 But THE BIG CONSPIRACY is as much about the orchestrated coup against Odutola at NCAA and her spirited fight to clear her name, through the media and the law courts before being finally vindicated, as it is about the painstaking expose of the underbelly of the Nigerian aviation and several issues of safety and standards that are still keeping that industry as a less-than-ideal, fear-inducing national disgrace.
In writing this important book, the author takes a cue from Mary Schiavo, a former Inspector General of the United Stated Department of Transportation who was dubbed 'Maximum Mary' on account of the fearless manner in which she carried out her undoubtedly sensitive duties. Schiavo's 1998 book, FLYING BLIND, FLYING SAFE, which detailed her experiences as a regulator in the US for six years was the inspiration Mrs. Odutola needed in ultimately taking her case to the court of public opinion over the manner in which she was retired in 2001 and the seeming unjust plummeting of her image and integrity by the Aviation Minister. It must be a timely cue she had taken from Schiavo considering that Nigeria had featured prominently in Flying Blind, flying Safe having been categorised as a frontrunner as far as the most dangerous place on earth for aviation was concerned. It is in that same book that three Nigerian carriers – ADC, Okada ad the Nigerian Airways were included among the six African carriers considered as failure because of their fatal accident rate.
Odutola's travails, almost tear-drawing, were very real indeed as revealed in the book.
And they got compounded with her boss' tongue-in-cheek quip on that fateful day – July 18th 2001 – when the letter of retirement was handed to her with the boss telling her that as a prayerful woman, he knew that Odutola would take her sudden but well-executed ordeal as God's wish. Now, isn't that a common phrase, a dream-killer of sorts in Nigeria where every misfortune or even anything untoward, accidental or deliberately negligent, is dubbed an act of God? Haven't we heard recently, in a manner that is astonishing as to be unbelievable, that the facts that planes are falling off the skies every now and then, killing many innocent souls, is unavoidable and should be accepted as an act of God?
Thankfully, this sort of ill-informed resignation to fate that seems to pervade the aviation industry and many aspects of our national life is what the THE BIG CONSPIRACY seeks to deconstruct, using the misapplication of justice in the author's case as a strong platform to launch a national discourse on forbearance and propriety. On face value, the whole thrust of Odutola's travail starts and ends with the first three chapters: 'And the chicken came home to roost'; 'Hypocrites All' and 'They Plotted and Planned'. But it's a story that continues to unfold till the very end. This author, it must be noted, is a master-crafter who uses words like an artist uses paint and brush and sees the need to build her case in a logical and convincing manner.
The ugly face of office politics and power-play continues throughout, especially in the next three chapters – chapter four to six where germane questions are won't to be asked. What is it that could have earned the author so much venom in interacting with colleagues and compatriots in an industry where she ought to have been celebrated as a shining light? How could one person have earned so much unflattering sobriquets like arrogant, inflexible, too strict, too rigid and uncompromising and at least on one occasion was subjected to  physical assault from a colleague? Chapters 9 and 10 – 'Fighting Dirty (The Roforofo Fight)' and 'My Travails' detail more about what a lone crusader and change agent can endure in the face of stiff opposition and how self-interest is almost always central to the slow pace of progress in our national lives.
While the book is not your everyday autobiographical memoir, it is easy to read the author's pedigree and sense of self esteem and accomplishment into why opposition fed with base, mediocre instincts would seek her destruction and why on each occasion, the author would always stand up against the adversary.
We see a picture of a woman who did not seem to get along with so many people in an environment where corruption and strife prevail. But could that be as a result of Odutola's 'inability to use diplomacy or her blunt refusal to apply the 11th Commandment of Thou Shall Not Get Caught? Or in plain language, is it her refusal to join them in a game of malfeasance that she could not have beaten them? Could it therefore be that as a brilliant woman with First-Class degree in Aeronautical Engineering from Glasgow University in Scotland, she was feared and derided by those that were intellectually less-endowed? Was her fearless and stoic disposition that seemed to infuriate so many around her as a result of the combination of her heritage as a Lagos-born with royal blood and a link to the house of Gbonka, the renowned Ife warrior? Could it even be because not only did she enjoy the privilege of having educated parents but also had a banker as a father who had previously had a go at boxing, and therefore made it unlikely that a brilliant daughter raised in that type of environment would be the shy, easily cowed victim of aggression? One good example that is narrated in the book on Page-726 is an encounter with a thief on Lagos traffic. "Suddenly, someone emerged from nowhere and I felt a hand on my neck. With a lightning-speed reflex I instinctively grabbed the person's arm just above the wrist and dug my teeth into it. He cursed and I cursed back. Thank goodness he wasn't armed and I got away unharmed – except for the curious uncontrollable shaking of my left leg". That is the type of Odutola that the reader would encounter in the book. Not the type that you slap on the right cheek and would turn the left cheek to you for an encore, even if you are the Chief of Army Staff who stormed her office one day with a battalion of soldiers to demand how dare she adjudged a plane he was to fly that day risky.
Odutola draws from various influences, particularly literary giants – from Shakespeare to Bertrand Russell, to drive home her point. Yet, humour and raw wit are in abundance in this book, but the most caustic part of the author's pen-lashes', is reserved for her adversary colleagues and operators.
Nowhere is the author's sense of history and the urgency to truly reform the sector is more felt that in chapter 11 'How Safe Are We Then?' where she gives a critical appraisal of the leading private airline operators up till 2001 from her experiences as the chief regulator for air worthiness. None, apparently, is spared the author's pen-lashes in the game of death they were accused of playing. From ADC, the first commercial operator to have become a public quoted company, to Easy Link and Chrome Air whose proprietor the DG of NCAA was said to be in mortal fear of offending. There is the story of Fassey Aviation whose "smooth-talking, flamboyant female CEO had a great propensity for getting anyone she could into real big trouble; and the King Airlines whose President/CEO was a federal legislator fond of reminding NCAA that "you will come to us" – a subtle but threatening reminder that the regulator's budget's would need to pass through the National Assembly for approval.
There were Triax and Kabo Air of course with varying degree of drama and subterfuge in compliance issues. However, it is in the author's focus on the operations of Nigeria Airways that the reader appreciates the point that God has been very merciful to Nigerians in no small measure over the years. And this is all the more germane at a point when the Nigerian Eagle is almost ready to be floated as a national carrier 10 years after NAL's ignoble exit. It becomes understandable why Odutola's detractors increased from colleagues and bosses at NCAA to NAL staff and then to Ministry of Aviation top shots when it became imminent that the chief regulator might ground NAL's only remaining flyable aircraft. It had become painfully evident that Nigeria could not run a national carrier safely and profitably. Sadly, politics prevailed over safety and it became expedient to sacrifice the job of the regulator for that of the MD of NAL and the image of the country.
With very minimal typographical errors as to be discountenanced, THE BIG CONSPIRACY is well written and very well edited; thoroughly enjoyable as one person's experience that deserves to be shared. And the author reveals yet another aspect of her personae, that beyond being an upright, even if sometimes a heady ideologue, she's also a nationalist and a pragmatist who puts the issue of corruption in proper context against realistic wages especially in public service. From her submissions, she desires that her country should get it right rather than get labelled as a Republic of 'Briberia' where bribery and corruption are the order of the day.
In completing this book, therefore, particularly after she had been vindicated by getting a recall into public service at a higher grade and later on secondment abroad, Mrs Odutola has fulfilled a personal literary obligation and has raised the needed alarm in a delicate sector that needs to get it right and restore confidence. And by so doing, she has assumed the role of an informal Rector General of the aviation industry and has ultimately given herself a befitting 60th birthday gift in a country where courageous voices like hers are in acute shortage.
 –Ayorinde, a Media Consultant, is the CEO of Relentless Media.