More than 1,000 Muslim couples tied the knot at a mass wedding Thursday in Nigeria's second city of Kano, part of a government programme aimed at promoting stable families.
The exercise was the fourth in the series of mass weddings conducted by the state government since 2011. A total of 100 couples wedded in the first batch, while 250 couples wedded in the second batch and 1,000 wedded in the third batch.
Today's elaborate event at the city's central mosque included 1,111 previously divorced women and an equal number of men, many of whom had also been married before.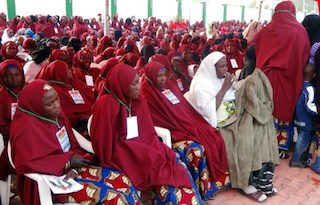 The mass wedding programme was launched two years ago by the state government and sharia police, or Hisbah, who enforce Islamic law, in response to what officials have described as a divorce epidemic.
"We are gathered here today to solemnise the weddings of 1,111 couples under Kano state's mass wedding programme," Deputy Governor Abdullahi Umar Ganduje said at the ceremony.
"The high divorce rate in our state leads to rampant cases of births outside wedlock, with children being born and dumped which leads to appalling social decay," Ganduje said.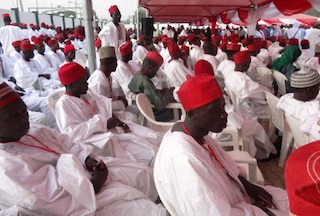 Hisbah chief Aminu Daurawa said the programme has arranged 4,461 marriages over the last 18 months.
The deputy governor called for stricter policies to discourage divorce and, when marriages do break up, harsher penalties for men who fail to pay alimony so that single mothers can "provide a good upbringing for their children and make them good citizens".
Under the match-making programme, the state government pays the traditional bride price, provides brides with furniture and seed money to start a small business.
Kano's government and the Hisbah have launched a massive crackdown on so-called "immorality," arresting hundreds of people accused of using drugs, engaging in commercial sex and dressing inappropriately.
The Hisbah also destroyed 240,000 bottles of beer at a public ceremony last month.
Officially, sharia was restored across Nigeria's mainly Muslim north in 2001, but the Islamic legal code has been unevenly applied.
Daurawa said the crackdown on immorality and the marriage programme are also being applied to Kano's minority Christian population.
"We have included 50 Christian couples in this batch in liaison with the Christian leaders in the state and they will have their weddings in church," he said.
The Director General of the Kano State Hisba Board, Alhaji Abba Sufi, told newsmen after the wedding that the Christian couples had their wedding in various Churches across the state.
He said health checks were conducted on the couples by experts at the Aminu Kano Teaching Hospital and other Non-Governmental Organisations before the wedding could take place.
He added that "our office, in conjunction with health experts and medical personnel from the Aminu Kano Teaching Hospital, conducted the health checks. We found some to be HIV positive and some pregnant."