A Nigerian failed asylum seeker who has been on hunger strike for around 100 days was removed from Britain on Wednesday following an unsuccessful legal battle.
Isa Muazu has been returned to Nigeria, immigration minister Mark Harper said.
The 45-year-old had been detained since July after he was found to have overstayed his leave by five-and-a-half years.
He began his hunger strike in September. His weight at one point was measured at 53 kilogrammes (eight stone) — little for his 1.8-metre (5ft 11in) height.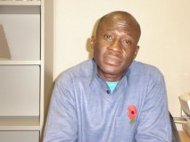 Muazu was first sent to Nigeria at the start of the month but the plane turned back, reportedly because Nigerian authorities refused to let it land.
Harper said: "Today (Wednesday), Mr Muazu, a failed asylum seeker from Nigeria, has been successfully returned."
While Britain rarely comments on individual cases, the minister said in Muazu's case, "he was not found to have a genuine need of protection".
"Halting the removal of Mr Muazu because of his protest would undermine our asylum and immigration system, and provide a dangerous incentive for others to follow suit," he said.
"The health of those in our care is something we take very seriously and all detainees including Mr Muazu have access to healthcare provision.
"At every stage, the government has offered appropriate assistance to him and has also facilitated his transport to a hospital in Nigeria where the cost of an assessment will be covered."
Muazu claims he faces persecution from the militant Islamic group Boko Haram if he returns to Nigeria.