The West African Examinations Council (WAEC) has released what its official called 'a discouraging' result for the November/December 2013 West African Senior School Certificate Examination.
The WAEC Head of the National Office, Mr Charles Eguridu said that there was worrisome decline in candidates' performance in the examination when compared with students' performance in 2011 and 2012.
"This year, 2013, we have a total of 86,612 candidates representing 29.17 per cent obtaining credits in five subjects and above, including English Language and Mathematics.
"In 2012, a total of 150,615 candidates representing 37.97 per cent obtained credits in five subjects and above, including English Language and Mathematics.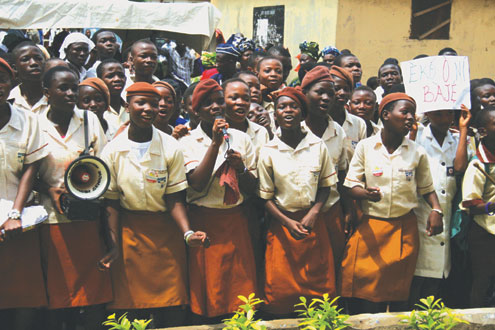 "In 2011, a total of 139, 827 candidates representing 36. 07 per cent also obtained credits in five subjects and above including English Language and Mathematics," he said.
Eguridu said that of the 308,217 candidates that registered and sat for the 2013 examination, 299,784 had their results fully released while 38,260 other had theirs withheld in connection with examination malpractice.
Giving further breakdown of the results, Eguridu said that 120,115 candidates obtained six credits and above, while 161,721 others recorded five credits and above.
He said that 198,832 candidates who sat for the examination obtained credits and above in four subjects, while 230,325 others obtained credits and above in three subjects.
The HNO also said that a total of 256,500 other candidates recorded credits and above in two subjects.
Eguridu said that 82 blind candidates registered and sat for the examination, adding that, of the figure, 17 candidates obtained credits in five subjects including English Language.
According to him, blind candidates do not take Mathematics and Science practical in the WASSCE.
Eguridu attributed the poor performance of candidates during major examinations to wrong values, lack of role models, poor incentives for teachers as well as lack of qualified teachers, among other challenges.
He said that the council was set to partner with any state government in providing strategies to teaching and learning processes.
He said that this would will help in effective curriculum delivery
He announced that the council will deploy cutting edge technology in the conduct of its examinations as from May, 2014, beginning with the May/June, 2014 WASSCE.
Eguridu said the council would use Radio Frequency Identification Smart Cards.
He said that the cards would be for easy and accurate identification.
Eguridu said that there would also be automated attendance registers, instant and accurate identification, instant malpractice reporting and effective post examination management.
"In view of the council's zero tolerance for malpractice and increased use of mobile handsets during examination, the council has made it mandatory for all schools to provide serviceable metal detectors.
"This will be used to prevent candidates from smuggling mobile handsets into examination halls," he said.
According to Eguridu, the council will continue in its quest to improve on service delivery through the deployment of information communication technology.
He said that the council had fully migrated from paper-based registration to electronic registration of candidates for its examinations.
Eguridu noted that in the November/December, 2013 WASSCE, the council deployed biometric technology in the registration of candidates, while data capturing was the basis of identifying candidates and taking attendance.
He said that reports from the field indicated a drastic reduction in impersonation of candidates.
He said that the reported cases were being investigated and the reports of the investigation would be presented to the Nigerian Examinations Committee of the council in due course, for consideration.
According to the HNO, a total of 8,433 other candidates have a few of their subjects still being processed due to some errors mainly traceable to them and cyber cafes in the course of registration or writing the examination.
"Such errors are being corrected by the council to enable the affected candidates to get their results soon," he said.