JUBA – US aircraft flown into South Sudan to help with evacuation efforts on Saturday came under fire that wounded three US servicemen, officials said, as fighting in the country escalated.
South Sudan's embattled government said a top army commander in the nation's key oil-producing region had defected to a fast-growing rebel force made of opponents to President Salva Kiir.
The upsurge in hostilities in the world's youngest nation, which gained independence from Sudan in 2011, came despite an offer from the president to open talks with his former deputy Riek Machar, who is accused of having started the fighting last week by attempting a coup.
Machar in turn accuses Kiir of conducting a violent purge over the past week, and his loyalists are now fighting the central government on several fronts.
US and Ugandan officials said three US military aircraft that were trying to land at Bor, the rebel-held capital of Jonglei state, were fired on and forced to return to neighbouring Uganda with one of the aircraft hit and leaking fuel.
"Three American officers were injured. The three military helicopters have landed at Entebbe military airbase with the injured officers taken on a C-130 to Nairobi," a Ugandan official said.
"The injured troops are being treated for their wounds," the Pentagon also said in a statement.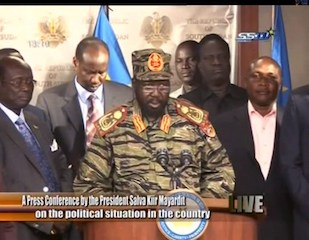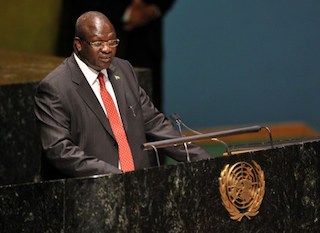 Military sources identified the aircraft as Ospreys, which are tiltrotor aircraft capable of vertical or short takeoff and landing.
The US operation was part of a major regional effort to evacuate foreign nationals from across the country, officials said. Neighbouring Kenya on Saturday ordered its troops in to evacuate Kenyans stranded in the country and Uganda had also sent in a special forces unit.
At least 500 people have been killed in the capital Juba alone in six days of fighting, while tens of thousands have been displaced — many of them seeking shelter at UN bases amid warnings that the impoverished nation was on the brink of all-out civil war.
In Juba fresh bursts of gunfire rang out at hourly intervals overnight Friday, prompting a new wave of terrified citizens to attempt to flee during the day, an AFP reporter said.
Juba's main bus park was crowded with people struggling to find space on public transport, while foreigners have headed to the airport where several countries — including the United States and Britain — have sent military transport planes to evacuate their nationals.
Ethnic bloodshed
Fighting has spread to the town of Bor, which lies some 200 kilometres (125 miles) north of Juba and which was seized by rebels during the week. South Sudan's army spokesman said an operation was underway to retake the town.
"We are moving towards Bor… there is fighting, but we are supported by air units," Philip Aguer, spokesman for the Sudan People's Liberation Army (SPLA), told AFP.
Aguer said that in northern oil-producing Unity State, a key commander — Major General James Koang Choul — appeared to have defected to Machar's side.
"We have lost contact with the commander… and there are reports he has joined the forces of Riek Machar," Aguer said, while insisting that government forces were still in control of the area — something the rebels have contested.