ANTANANARIVO (AFP) – Madagascar's presidential candidates both claimed victory Saturday in run-off polls, each accusing the other of rigging the vote as results started to trickle in.
Mutual mud-slinging marked the long wait as counting continued after elections on Friday aimed at pulling the island from the doldrums following a coup four years ago.
The tiff resembled disputed polls in 2001, when both candidates' insistence on an outright first-round win led to deadly clashes.
Former health minister Robinson Jean Louis, candidate of ousted president Marc Ravalomanana, told AFP he expected to win 56 percent, while his opponent Hery Rajaonarimampianina claimed to have taken between 60 and 65 percent.
"Up to now I'm the winner, and we had a little party last night at our headquarters because the voters who came showed we won, at least according to the results we've received," Jean Louis, 61, told AFP in an interview Saturday.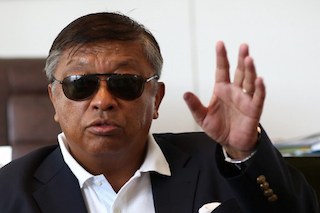 His camp will challenge vote-rigging in court, the freemason doctor said.
"There has been massive fraud," he charged, adding that "an entire airplane" filled with ballots pre-marked in favour of his rival had been discovered.
Ballot boxes were already half full when people started voting at the polling station where strongman Andry Rajoelina cast his ballot, he alleged.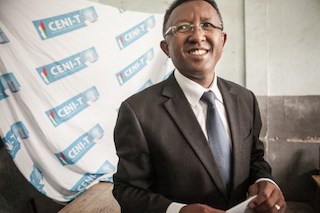 Meanwhile, the camp of Rajaonarimampianina, 55, a former finance minister under Rajoelina, denied any wrongdoing.
"From our side we haven't rigged the vote, but actually they did. We have proof," his spokeswoman Rinah Rakotomanga said.
Friday's parliamentary and run-off presidential polls were aimed at returning the island to democracy after Rajoelina seized power from Ravalomanana in an army-backed coup in 2009.
The two foes were barred from running for the presidency as the international community fears a return to violence but proxy candidates ran instead.
'There will always be rumours'
The election commission, security forces and international observers have not confirmed incidents of fraud after hailing generally peaceful polls, though with low turnout.
"It's a bit sad," said electoral commission head Beatrice Atallah.
"Some people insinuate that even the helicopter which collects the results is transporting pre-marked ballots."
Observers had opened "small enquiries" into fraud claims, she added.
UN representative for Madagascar Fatma Samoura said: "There are a lot of rumours, but these were elections to exit a crisis and there will always be rumours."
The community of French-speaking countries gave the polls the green light despite some organisational problems.
"We haven't noted any fraud, but we weren't everywhere," said the mission's Louise Frechette.
Another foreign observer doubted claims of rigging.
"I have known Madagascar for 45 years and have never seen an election so transparent. What needs to happen now is the two camps have to accept the result."
Other observer missions will release their main conclusions on Sunday.
Friday's presidential run-off after an inconclusive first round on October 25 coincided with a vote for 151 parliamentarians.
Rajaonarimampianina led with 52.08 percent of the votes according to results published early Saturday evening, with 641 out of 20,001 stations reporting. Results in the morning had given more than half the vote to Jean Louis.
The former health minister has called for calm until the final results are published.
The stand-off resembles a similar squabble between Didier Ratsiraka and Ravalomanana following polls in 2001, a reminder of the Indian Ocean island's turbulent history.
Both claimed to have won the first round and each declared himself president. A court gave Ravalomanana the victory after a recount, which Ratsiraka rejected before fleeing into exile.
He returned to Madagascar in 2011 and wanted to run for president again this year, but was blocked along with Rajoelina and Ravalomanana.
The election commission should announce final results by January 7, to be confirmed by the election court by February 18.