It is a season of letter writing and President Goodluck Jonathan has capped it with his much awaited response today to former President Olusegun Obasanjo's 18 page letter, that has triggered a lot of storms in national discourse.
Jonathan also made his response an open letter, addressed to the office address of the former leader in Abeokuta.
In the letter, dated December 20 and titled "Re: Before it is too late'', Jonathan said that Obasanjo's letter was a deliberate and calculated attempt to discredit him and his administration.
He also described Obasanjo's open letter, as "a threat to national unity and an attempt to promote ethnic disunity''.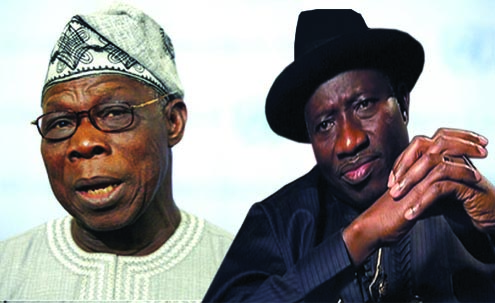 Jonathan gave ten reasons he was compelled to reply the letter, among which were the weighty allegations the letter contained.
"Your letter conveys to me the feeling that landmines have been laid for me. Therefore, Nigerians need to have my response to the issues raised before the mines explode.
"The purpose and direction of your letter is distinctly ominous, and before it is too late, my clarifications on the issues need to be placed on record.
"Your letter was designed to incite Nigerians from other geopolitical zones against me and also calculated to promote ethnic disharmony.
"Worse still, your letter was designed to instigate members of our party, the PDP, against me.
"One of the reasons why my reply is inevitable is that you have written similar letters and made public comments in reference to all former presidents and heads of government, starting from Alhaji Shehu Shagari, and these have instigated different actions and reactions.''
Denying the allegations levelled against him in the letter, Jonathan said that his administration had worked assiduously to curtail the wave of insecurity in some parts of the country.
Jonathan also criticised Obasanjo for the way he handled security challenges during his tenure, arguing that his administration had done better in addressing the security situation in the country, citing the military invasion of Odi in Bayelsa during Obasanjo's administration as an illustration.
He cited the failure of the former president to unravel the mystery surrounding the "serial political killings during his administration.
"I assure you that I am fully aware of the responsibility of government in ensuring the security of the lives and property of the citizens.My administration is working assiduously to overcome the current national security challenges, the seeds of which were sown under previous administrations.
"There have been some setbacks; but certainly there have also been great successes in our efforts to overcome terrorism and insurgency. Those who continue to downplay our successes in this regard, amongst whom you must now be numbered, appear to have conveniently forgotten the depths to which security in our country had plunged before now,'' he said.
Jonathan also refuted the allegation by Obasanjo that 1,000 Nigerians were under the watch-list of his administration.
He challenged the former president to make public the names of such persons on the list.
Besides, Jonathan similarly denied the allegation by Obasanjo that his administration was training snipers for political killings
"The allegation of training snipers to assassinate political opponents is particularly incomprehensible to me.Since I started my political career as a deputy governor, I have never been associated with any form of political violence.
"I have been a president for over three years now, with a lot of challenges and opposition mainly from the high and mighty. There have certainly been cases of political assassination since the advent of our Fourth Republic but as you well know, none of them occurred under my leadership,'' he said.
Jonathan stressed that his administration had maintained zero-tolerance to corruption, contrary to the position of Obasanjo in his letter. he also reminded Obasanjo of the headline-corruption scandals during his administration—Siemens and Halliburton bribery scandals.
"The seed of corruption in this country was planted a long time ago, but we are doing all that we can to drastically reduce its debilitating effects on national development and progress. I have been strengthening the institutions established to fight corruption. I will not shield any government official or private individual involved in corruption, but I must follow due process in all that I do.
"And whenever clear cases of corruption or fraud have been established, my administration has always taken prompt action in keeping with the dictates of extant laws and procedures,'' he said.
Besides, the president exonerated himself from the crisis which engulfed the ruling PDP, blaming Obasanjo and others for it.
"It is indeed very unfortunate that the seeming crisis in the party was instigated by a few senior members of the party, including you. It is very regrettable that in your letter, you seem to have placed sole responsibility for the ongoing intrigues and tensions in the PDP at my doorstep.
"Baba, let us all be truthful to ourselves, God and posterity. At the heart of all the current troubles in our party and the larger polity is the unbridled jostling and positioning for personal or group advantages, ahead of the 2015 general elections.
"The `bitterness, anger, mistrust, fear and deep suspicion' you wrote about all flow from this singular factor.''
Jonathan pledged that he would continue to do his best to unite the PDP and make it stronger.
He also denied Obasanjo's allegation that he sent some African heads of state to him over his purported 2015 ambition.
"Your allegation that I asked half a dozen African presidents to speak to you about my alleged ambition for 2015 is also untrue. I have never requested any African president to discuss with you on my behalf.
"In our discussion, I mentioned to you that four presidents told me that they were concerned about the political situation in Nigeria and intended to talk to you about it. So far, only three of them have confirmed to me that they have had any discussion with you. If I made such a request, why would I deny it?'' he asked.
Jonathan said that he would make his intention about the 2015 presidential elections known at the appropriate time.
He also refuted Obasanjo's allegation that the proposed national conference was self-serving and aimed at achieving his 2015 political ambition
"Contrary to the insinuation in your letter, the proposed conference is aimed at bringing Nigerians together to resolve contentious national issues in a formal setting. This is a sure way of promoting greater national consensus and unity, and not a recipe for `disunity, confusion and chaos', as you alleged in your letter,'' he said.
Jonathan assured Nigerians that he would not engage in negative political actions, adding that he would never, as President, oppress the people of any state or deprive them of the much-needed public services as a result of political disagreement.
Read the full letter here: Goodluck Jonathan's response to Obasanjo