Ademola Adegbamigbe
Dr. Doyin Okupe, Senior Special Assistant to The President on Public Affairs, this evening, in Lagos, replied Dr. Goodluck Jonathan's critics, saying "responsible leaders don't talk like this."
He asked rhetorically. "Did you see any leader anywhere ridiculing their president like this?"
He spoke to media men at the Renaissance Hotel, Alausa, Ikeja.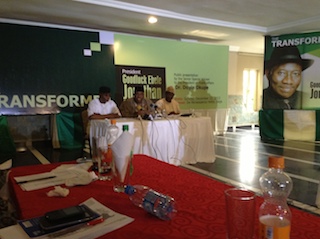 When journalists pushed Okupe to comment on the "letter bomb" written by his former boss, Olusegun Obasanjo, to Jonathan, he responded that he was "duty bound not to comment on it," because, "you people have read enough reactions and comments on it in the papers."
However, when he was speaking on the terrorism crisis, he dismissed Obasanjo's "carrot and stick" suggestion as mundane because, as he put it, "things have gone beyond the old model."
In his words, the Nigerian military personnel are doing their best, even though many Nigerians have become "experts on insurgency".
Then Okupe took a dig at the leaders of All Progressives Congress, APC "who move in agbada from city to city, fishing for leaders from the Peoples Democratic Party, PDP, because (APC) has no leader.
Okupe dismissed APC as a collection of those who wrecked Nigeria.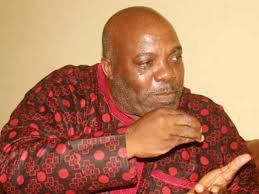 "How will Nigeria be saved if all the people troubling Nigeria are not put in a boat that will sink?" Okupe asked.
He added that when Jonathan defeats this so called giant (APC), then all glory will be to God."
He wanted Nigerians to realise that although the opposition had been claiming that Jonathan had not done anything, Okupe said that rather than attacking personalities, he prefers "to operate from the point of view of incontrovertible evidence on which you journalists can take me to task."
Thus, on road, he listed 37 different projects some of which have been completed across the six geo political zones.
With regard to power, he boasted that Jonathan, through the power sector reform, had boosted electricity from 2,600mw to an installed capacity of 6,700mw "with 2,300mw additional fresh generation capacity expected from NIPP project by next year."
The only trouble, as he explained, was in the interruption of gas supply as a result of vandalisation of pipelines.
"We can from here go up, we cannot go down," said he.
On the economy, he was not happy about the way critics attack the government, which they claim parade high GDP when poverty ravages the land.
"When you meet a rot, It is like a sinking building.
To put the foundation in order, you have a lot of work to do which may not be visible. Yet, people passing by will say no work is being done," he reasoned.
Okupe, therefore, challenged Nigerians to do their research well, saying that "there is no international economic fora where Nigeria has not been praised."
He added: "These organisations are not fools. We did not bribe them."
Okupe claimed that the Jonathan administration is "the best since indepdence in 1960."
He further spoke on the Jonathan administration's achievements in health, aviation reforms, education, agriculture, sports development, security and others.
Read up his speech here: