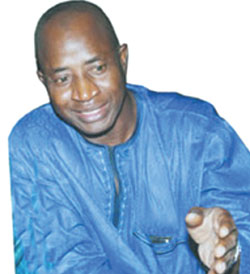 A former Green Eagles player, Segun Odegbami, has said that  Nigeria's senior national team, the Super Eagles lack creative midfielders and he wants the coach of the team, Stephen Keshi, to ensure the team's attacking-midfield is strengthened before the 2014 World Cup.
Odegbami added that the team are lacking creativity in the midfield, adding that the Eagles would be strong contenders if the midfield is improved.
"Right now, we don't have the creative midfield to be able to hold on to the ball and keep control. We lose the ball too easily.
"And all of this is as a result of the midfield; we just don't have that creativity in the midfield that the team requires at the moment,'' he said.
Odegbami noted that the search for the right creative midfielder was the responsibility of Keshi, adding that it would be wrong to start suggesting players for him.
"Well, I am sure he knows what the problem is, it is for him to get the right players now aside the one's that he has played,'' the former left winger said.
"Once he can achieve that, I think the team will be a lot stronger. The team is presently strong but it could be a lot stronger with the presence of creativity,'' Odegbami noted.
According to him, Keshi must be careful to avoid recalling some players who have played for the Eagles in the past and have since passed their peak.