Abiodun Onafuye/ Abeokuta
Governor Ibikunle Amosun of Ogun state, western Nigeria boosted the protection of the citizens by donating
50 patrol vehicles to the Police and other security agencies.
Fourty-five of the patrol Hilux vehicles were bankrolled with the proceeds from the State Security Trust Fund, while the state government paid for additional five vehicles.
To Governor Amosun, the provision of vehicles to the police should serve as a signal for the hoodlums and criminals that they should not undermine the festive period in the state.
At the brief handover ceremony at the arcade ground, Okemosan, Abeokuta, Amosun said his administration had spent about N10b in providing security for the people of the state.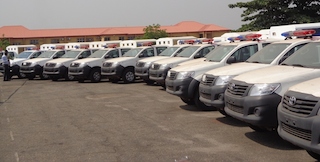 He said that his administration would continue to provide enabling environment for the residents and investors alike as part of rebuilding mission of his government.
"Because security to one is security to all, we are determined to ensure that our people are safe and our investors too are safe. In the last two years, at least by the end of the outgoing year, we as a
government have spent about N10b to provide security for the state, and we are pleased by the effort, as it is yielding results. The Security Watch again for the second time has recognized us as the best
in terms of security", Amosun stated.
The governor commended the Security Trust Fund for the gesture.