Nigeria's Department of State Services (DSS), has arrested Lance Corporal Suleiman Mohammed of the Nigerian Air Force and six others over alleged kidnap resulting in the death of a Sokoto-based businessman.
The others are; Mustapha Isah, Mohammed Abubakar, Farouk Waziri, Mohammed Bukar, Usman Idah, and Abdullahi Musa.
Mr Doyin Adetuberu, an Assistant Director of the DSS, who paraded the suspects before newsmen on Tuesday in Abuja, said that they kidnapped the late businessman, Alhaji Abu Dankure on 6 November 6. They released him 11 November.
Adetuberu said that Dankure died 11 days after he was set free by his kidnappers, adding that the suspects received 290,000 dollars before they set him free.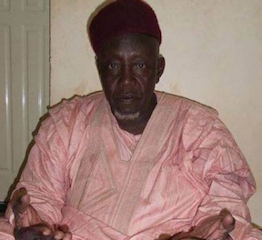 He said that the act was masterminded by Isa, who confessed to the crime.
"On Nov. 6, 2013, Alhaji Abu Dankure, a prominent Sokoto-based businessman and philanthropist was kidnapped at his construction site, located in Kofar, Kwari area, along Western bye pass, Sokoto.
"Dankure was released by his captors on Nov. 11, 2013 and died 11 days later.''
Olatuberu said Abdullahi Musa, 31, an indigene of Bagudo Local Government Area of Kebbi State, who resides in Sabongeri, Kano State, confessed that in September, he rented a 3-bedroom apartment at Mabera area of Sokoto, which was used for the kidnap operation.
He also confessed to have collected 290,000 dollars ransom in Kwali Area Council of Federal Capital Territory, FCT, after which he ordered the release of the victim, who was under their custody for five days.
The other suspects confessed to being part of the kidnap but the Air Force Lance Corporal denied any involvement, insisting that he only sold a Samsung Galaxy Note 2 to Musa.
He, however, admitted to have told one of the gang members that his Uncle could assist them in procuring some arms.
Adetuberu said that the 24-year-old NAF personnel was attached to the Ministry of Defence Headquarters, Abuja and resided at the NAF base, Airport Road.
The assistant director reiterated the determination of the Service to combat all forms of insecurity in the country.
He also appealed to the public to be vigilant and to continue to cooperate with law enforcement agencies.

Load more