Lagos State Governor, Mr Babatunde Fashola (SAN) on Tuesday described as shocking the death of the Managing Director of Eminent Communications, Mr Sesan Ogunro who was killed by unidentified assailants on Sunday evening at Alausa.
The State Governor who paid a condolence visit to the family of the late Advertising giant at their Ogudu GRA residence, was received by the widow, Mrs Dupe Ogunro and the children of the deceased including Mrs Damilola Gbadebo-Ogunro, Mr Timayo Ogunro and Miss Fade Ogunro, described Mr. Ogunro as a truly restless spirit and a master of his art.
"A truly restless creative spirit and a master of his art, I shudder at the thought that the man whose ingenuity engendered several election campaign materials and compelling state policy advocacy campaigns has bade the world goodbye in such painful circumstances", Governor stated.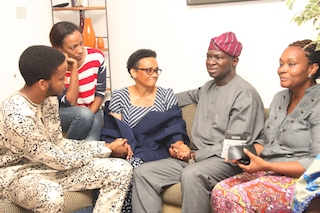 He added that his administration, Lagos State and indeed the Nigerian nation has lost a most resourceful personality who will surely be missed by all.
Said he: "On behalf of my wife, Dame Emmanuella, the Government and people of Lagos State, please accept my condolences and be assured that we are in prayers with you and members of your family for the peaceful repose of the soul of your husband and for the Almighty God to grant you the fortitude to bear this loss".
In his comments on the condolence register which was opened at the residence of the deceased, the Governor wrote: "My dear friend and brother, this is too sudden a goodbye. You did not wait to finish the job you started with me. You sacrificed so much".
"I know that you did not quit on me, because you are not a quitter. Some of the problems we must solve have taken you to a higher place. Rest in peace, dear brother, friend and patriot. I really value the time we spent together", he added.
The former governor of the state, Asiwaju Bola Ahmed Tinubu, who hired Ogunro's Eminent Communications to handle the 2007 campaign for Fashola's election also sent a condolence message to the family.
In a statement today, Tinubu said he received with "deep sadness the shocking news of the brutal murder of a close friend, brother and comrade, Sesan Ogunro. Since the sad news broke I have had cause to ponder about how dangerous and unsafe the county we live in is.
"He was very committed, humble and progressively minded. He was humane and very concerned about people .
"Through the Abiola years he was front and center in the struggle for the enthronement of democracy in Nigeria. Later he also played a central role before and during my tenure as governor of Lagos. My heart bleeds in part for the loss of such a brilliant and talented man. In another part my heart bleeds for our county Nigeria and for many of our innocent citizens who will be gruesomely murdered in similar fashion in the days and months ahead. There must be a way to stop this hemorrhage and wastage of our best minds. Security of lives should be a top priority agenda by the government with stiffer penalties for those who hold and use guns illegally.
"Though dead Sesan will never be forgotten. He lived an impactful life that touched family , relatives, associates and colleagues. "