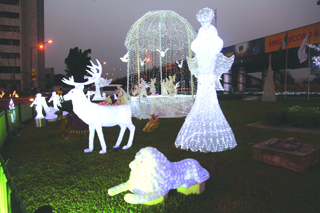 In some markets, on Tuesday in Enugu, some young men between the ages of 14 and 20 were seen involved in mass slaughtering fowls.
Some of the markets visited included the Artisan Market at Ogui road, Livestock Market at Enugu-Port Harcourt expressway and the Abakpa Market.
Ifeanyi Nwude, a Senior Secondary School student, said that he made between N3,000 and N5,000 daily in the last one week at the Artisan Market.
"Since we closed for the Christmas holidays, I make about N3,000 and N5,000 daily because of the season," he said.
An undergraduate of a tertiary institution in the state, Nonso Agu, said he also made about N7,000 a day, depending on the number of customers.
Agu said that the fees increased by almost 100 per cent for fowls and about 50 per cent for rams and goats.
"Before November, the price for slaughtering a chicken of any size increased from N100 to N200 while the price for turkey is now N500 as against N300 for slaughtering one.
"As you can see, I have about four to slaughter now and before the end of the day I may kill more than 20.
"Many customers patronise us on a daily basis because of the numerous celebrations like traditional and white weddings, chieftaincy titles and even burials held during the season," he said.
Agu said that the rise had boosted the business, adding that he would have enough money to pay his school fees and also celebrate the season with others.
At the ivestockl market where cows, goats and rams are slaughtered, it is a similar story as some youths are making a lot of money on the business.
NAN reports that to slaughter a cow costs between N5,000 and N8,000, depending on the size, while that of goats and rams cost between N2,500 and N5,000.
Ahmed Sanni, a butcher, said that the price increased because of the season, saying that they also had to pay some levies to be in the business.
"We pay to the union and also buy firewood, kerosene and other things for the business," he said.
Most markets in the state are crowded with activities as many people are making last minute purchases for the Christmas and New Year celebrations.