Nigeria's finance minister, Dr. Ngozi Okonjo Iweala said Nigeria will be spending 78 per cent of its income on recurrent expenditure in 2014 and 22 per cent on capital projects. Nearly a trillion naira will be borrowed to finance the capital projects.
But in Kano, Rabiu Kwankwaso, an engineer, who doubles as the governor of the state, has demonstrated how best to run a national budget, at state level: Kwankwaso in fiscal 2014 year, will be spending 32 per cent of the expected income of N219.2 billion on recurrent expenses. Capital expenditure will take the rest.
"The 2014 budget has a projected recurrent revenue N126, 960,422,861 and capital receipt of N81, 526,211,850. It also has a recurrent allocation of N70, 621,425,720 and capital estimates of N148, 659,847,767. This represents a total of 68% capital and 32% recurrent estimate,"Kwankwaso said.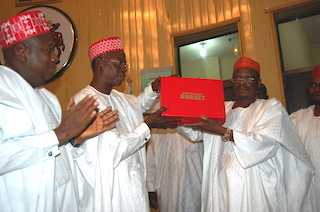 In some of the highlights of the budget, the state will be financing free and compulsory education at all levels in the state, at a cost of about N35 billion, about 20 per cent of the budget
"in our collective resolve to drive a knowledge base economy, government has already concluded arrangement to adopt a free education for all indigene at all levels: primary, secondary and tertiary institutions in the state."
"This is in addition to sponsoring of Kano indigenes to pursue their various degree programmes locally and internationally", pointing out that the commencement of the free education for all Kano state indigenes from primary, secondary and tertiary institutions starting from the new academic session in 2014."
Other policy programmes in 2014 fiscal year under education include, N6.5 billion for the continuation work at Schools for Islamic Studies in each of the 44 LGAs
Kwankwaso revealed that N2 billion has been set aside for the continuation of 44 Technical Schools one in each LGAs; adding that N241 million has equally been earmarked for the procurement of 15 mobile computing solar powered container box.
He said that N250 million was also earmarked for the establishment of another boarding primary school in the state, adding that N1.3 billion has been allocated for the Construction and furnishing of 268 additional classrooms in the state.
The Governor further stated that Northwest University got N3billion for the continuation of construction of Faculty building, senate building and other infrastructure, adding under the 2014 approriation bill N586 million was earmarked for the continuation work at former Magwan Water Restaurant to First Lady College.

.With reports from Vanguard online

Load more