MADUABUCHI NMERIBEH/Kano
The Kano State House of Assembly has received the 2014 budget from Governor Rabiu Kwankwaso.
The ceremony was held last night after the arrival of the Speaker, Gambo Sallau and 10 others who were arrested by the Economic and Financial Crimes Commission on Monday.
Earlier, the House had forged a political solution to the problems created by the arrest, when at a Special Session, it appointed former Speaker, Garba Gafasa, representing Agingi Constituency, as the protempore Speaker.
During Gafasa's 40 minutes reign, Special Prayers were offered by every House member present for the journey mercy of their 11 colleagues, returning from Abuja, after which the House agreed to dismiss to observe Muslim prayers.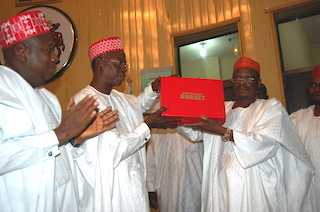 Thirty nine out of the 40 lawmakers in Kano state House of Assembly have declared loyalty to the All Progressives Congress, APC, via the Kwankwasiyya Movement.
The only PDP member in the House, Safiyano Gogore representing Shanono/Bagwai Constituency insisted that he needs directive from Farouk Lawal, the controversial Mr. Integrity at the House of Representatives, whom he declared as his "Political God-father."
In the budget proposal, styled budget of consolidation, presented by Governor Rabi'u Musa Kwankwaso, government envisaged to spend N219.2 billion.
"This is slightly lower than the 2013 budget with N19.2billion, which translates to 8 per cent. It is a balanced budget with revenue matching expenditure.
"The 2014 budget has a projected recurrent revenue N126, 960,422,861 and capital receipt of N81, 526,211,850. It also has a recurrent allocation of N70, 621,425,720 and capital estimates of N148, 659,847,767. This represents a total of 68% capital and 32% recurrent estimate," Kwnkwaso stated.

Load more