Chelsea manager Jose Mourinho has described Premier League title rivals Arsenal as "boring" for failing to score in Monday's 0-0 draw between the sides.
The match at the Emirates Stadium was a bruising encounter, with Mourinho responding to accusations that his side had been unnecessarily physical by accusing Arsenal's players of 'crying'.
Arsenal's fans booed Mourinho's side off the pitch at the final whistle, chanting "Boring, boring Chelsea!", but Mourinho believes that they should have directed their ire towards their own team.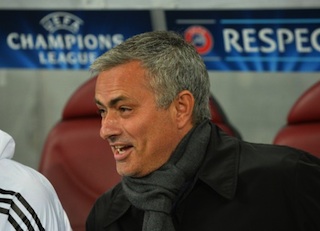 "I think boring is a team that plays at home and cannot score a goal. That's boring," said the Portuguese, ahead of his side's home game with Swansea City on Thursday.
"If somebody was boring, they were boring because (Chelsea goalkeeper) Petr Cech made zero saves.
"You go to your stadium and you fill your stadium, in weather like we had on Monday, to see victories. There is not a home fan in any club in the world who goes to the stadium and expects his team not to win."