Novak Djokovic started where he stopped last season: by continuing his unbeaten run.
In Abu Dhabi today, he defeated Spain's David Ferrer 7-5, 6-2 to win his third straight World Tennis Championship title.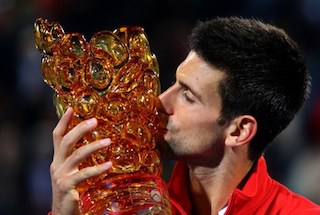 Djokovic, who finished the year with a 24-match winning streak on the ATP tour since losing the U.S. Open final to Rafael Nadal, needed just 82 minutes to dispatch the third-ranked Ferrer in the final of the invitational exhibition tournament.
Djokovic converted his third match point to take home the $250,000 winner's check.
Ferrer led 4-2 in the first set but then started making a number of unforced errors as Djokovic took control of the match.
Earlier, the top-ranked Nadal won a third-place playoff match against Jo-Wilfried Tsonga 7-6 (5), 6-3.