Hull City's Tom Huddlestone scored his first goal in over two and a half years on Saturday, before honouring a bet by getting an impromptu pitch-side haircut.
The English midfielder made a bet during his time with previous club Tottenham Hotspur that he would not cut his hair until he next scored a goal.
Having last found the net in Spurs' 3-3 draw with Arsenal in April 2011, his hair has swelled into a huge afro, but he finally ended his drought in Hull's 6-0 victory at home to Fulham.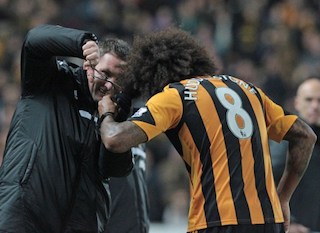 Huddlestone put Hull 4-0 up in the 67th minute, smashing home from the edge of the area, before running to the touchline, where a member of the Hull staff produced a pair of scissors and cut off a sizeable lock of his hair.
"That (the celebration) has been sorted out since the beginning of last season at Tottenham," said Huddlestone, who was also celebrating his 28th birthday on Saturday. "I've had to wait until today for it to happen."
Huddlestone also confirmed that he had been sponsored for letting his hair grow and would be donating the money to charity.
"That was the main thing," he said. "It started as a bit of banter with some of my friends from Nottingham and I set it up for charity. It lasted longer than expected, but it's for a good cause.

Load more