Voters across Yobe today turned out in large numbers to cast their votes to elect Chairmen and Councillors of the 17 Local Government Councils in the state.
At many polling booths in the capital Damaturu as well as some local government areas, scores of people lined up as ealy as 7 a.m. to accredit and cast their votes.
Towns such as Bamari, Kalalawa, Ajeri, Gaidam and Bukarti also recorded large turnout of voters.
There was, however, heavy security presence in all the polling booths as well as major streets in Damaturu with combined team of soldiers, police, civil defence corps and immigration officers watching over.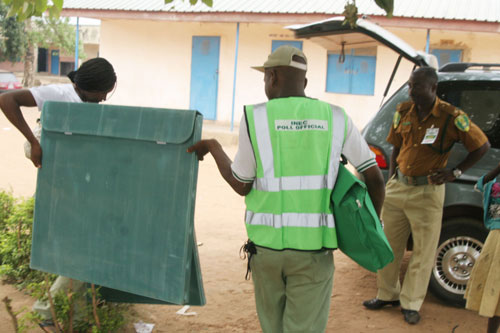 Shops and other businesses were closed while restriction on movement was imposed throughout the state from 8 a.m. to 3 p.m.
Reports from other parts of the state also spoke of security build up to forestall any unforeseen circumstances.
Ten political parties participated in the polls while the major opposition party in the state, the PDP, boycotted the election.
Speaking to journalists after casting his vote, the state Governor, Alhaji Ibrahim Gaidam, said the conduct of the election had proved sceptics wrong on the security situation in the state.
He blamed "mischievous politicians'' for raising false alarm of a possible breakdown of law of order in the state.
Yobe is one of the three states under emergency rule following the activities of insurgent groups
"We know what is going on here because we are here on the ground. We know the security situation in our state that is why we went ahead to conduct the lection.''
The governor said that from the reports he received, eligible voters were casting their votes peacefully in all the 17 local government areas in the state.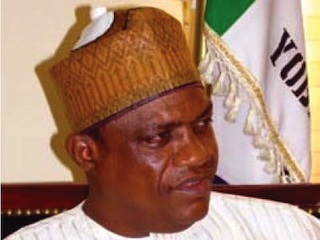 "You can see we have gotten relative peace when I was coming here; I inspected about three areas and the elections were going on peacefully and I am sure we will conclude it safely.
"So, I think politicians should stop making noise since they are not on ground. We are the ones on the ground; anytime this kind of thing is happening, they should call us to give them the true positions of things on the ground,'' Gaidam said.
Also speaking to newsmen, a member of the House of Representatives, Alhaji Goni Lawal, described the election as successful, adding that many people came out to cast their votes.
Lawal said that he went round about 10 local government areas to inspect the conduct of the polls and found that a large turn out of voters was recorded in the many areas.
Mr Femi Bafunsho, Chairman Justice and Equity for All, an NGO, who was observing the conduct of the polls, said the turn out in most polling units was commendable.
The Chairman of the State Independent Electoral Commission, Hajiya Hannatu Binyat, told NAN that reports received from across the state spoke of a peaceful conduct of the election and congratulated the people for a successful exercise.