President Joyce Banda of Malawi is on a spiritual retreat at the Lagos-based Synagogue of All Nations. But one other item she may need to put on her prayer list is to ask God to stop the killing of her people by lightning.
Today, a lightning strike killed eight worshippers including a child at a church in Malawi's capital Lilongwe on Saturday, a health ministry official said.
"The worshippers were having an extended session of Saturday prayers when lightning struck their church at around 4.30pm," Charles Mwansambo, chief of health services in the ministry of health, told AFP.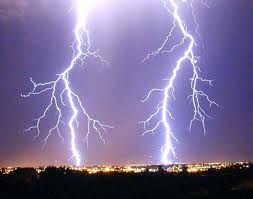 He said the eight victims — included seven adults and one child — had "arrived already dead" at Kamuzu Central hospital from the Seventh Day Adventist Church.
Mwansambo said one person was at the intensive care unit, while 40 others were being "observed" and treated as outpatients.
"It's a disaster… it was a natural phenomenon," Mwansambo said.
Lightning has killed three other people in separate incidents since the start of the rainy season last month, according to media reports.