Simon Ateba/Lagos
The Nigeria Security and Civil Defence Corps, NSCDC, has done a good job in 2013 and needs the collaboration of all Nigerians for a stronger fight against the activities of vandals in the country, the paramilitary body said in a statement on Saturday.
NSCDC Commandant General, Dr. Ade Abolurin, was quoted as saying that with all the achievements his men recorded this year, the body has justified its existence in Nigeria.
The body disclosed in the statement signed by its PRO CSC Okeh Emmanuel that this year alone, it has arrested over 1,590 oil related suspected criminals and is currently prosecuting 1,549 of them while 44 of the suspects have been convicted already.
"Eight hundred and thirteen illegal oil refineries were destroyed while items recovered include: 241 trucks, 148 vehicles, 52 motorcycles, 15,051 drums of AGO, 33 vessels loaded with crude oil, 1,271 boots, 12,532 kegs of AGO, 92 barges loaded with crude and 1,056 tanks loaded with PMS," NSCDC said in a statement signed by the body's mouthpiece, Okeh Emmanuel.
NSCDC said a total of 176 suspected criminals were also arrested by the Corps in relation to the vandalisation of PHCN facilities, Railway installations, Telecommunication and water infrastructure.
About 156 suspects are undergoing prosecution while 20 have been convicted, the body said.
NSCDC said the items recovered from the criminals include transmission cables, PHCN armoured cables, water pipes, metal cables and four cable wire of transformer.
"In view of the above, the Corps in the year under review has justified her existence by making significant and appreciable contribution towards the reduction of vandalism of critical infrastructure and National Assets as well as in other areas that are of the Corps' mandate, NSCDC's statement read.
The Corps said through its specialised units, it has been able to carry out other operations such as Quick Response, Rescue and Disaster Management operation.
The Corps said it has nabbed fraudulent and criminal elements, clamp down on kidnappers, baby factories and illegal traffickers as well as terrorists and cyber criminals to mention but a few.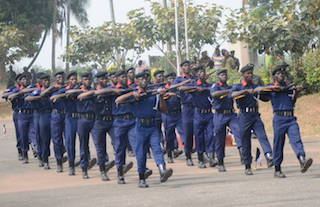 NSCDC said other security agencies have benefited from the collaborations and synergy of the Corps through intelligent sharing, information gathering, strategic operations and tactical efforts in stamping out all forms of crime and criminality in the country.
The body also listed the medals it won this, adding that it made Nigeria proud.
"The Corps through its Sport unit has won a total of 691 medals for both the country and NSCDC comprising of 322 gold, 217 silver and 152 bronze.
"Most recently, the Corps in the 2013 commonwealth weight lifting championship held in Penang Malaysia won eight medals for the country consisting of six gold, two silver medals," the body said.
NSCDC said that in 2014, there will be greater improvement and the body will desire to stamp out completely every act of vandalism and criminality.