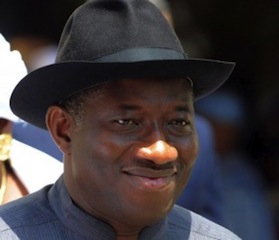 Sectoral highlights of the 2014 Federal Government budgetary allocations have again shown how profligate the government could be in terms of spending on mundane things. It also shows government's insensitivity to the plight of poverty-stricken Nigerians who can't even afford basic needs such as food, shelter and medicare.
Allocations to the Presidential Villa are so outrageous that a whopping N1.5b is to be spent  on upgrading facilities there. In spite of this allocation, hundreds of millions of naira is to be spent on other facilities within the Villa in 2014. For instance, N2 million is to spent on two benches, N5 million was allocated for gardening equipment and N4.2 million for State House Sports Club.
Also, massaging bed is to gulp N2.1 million, while N22 million was allocated for tracking the 100 cars in the Presidential fleet, whereas it costs at least N5 milliion to track 100 cars, a difference of N17 million budgeted for the 100 cars in the Presidential fleet.
Construction of the VIP wing of the State House Medical Centre is to gulp N1.3 billion whereas only N705m was provided in the 2014 budget. The remodeling of a new Vice President's Guest House would also cost tax payers N115m, while N50 million is to be spent on improvement of electrical installations inside the Banquet Hall of the Presidential Villa.
The Villa Telecom Exchange will be upgraded for N220 million; N34.5 million is to be spent on two animals in the Villa zoo; N362 million for meals and refreshment; N834 million for fuelling generators in the Villa; and N10.7 million for books in the Banquet Hall Library.
President Jonathan and his deputy, Vice President Namadi Sambo, are to spend N2.4b on foreign trips in 2014, even as N1.6b has been allocated for a new jet in 2014.
The total allocation to the Villa in the 2014 budget is N68.1b, which is close to the entire budget of some state governments in the federation.