ANKARA (AFP) – The political crisis engulfing Turkish Prime Minister Recep Tayyip Erdogan has cost the economy $100 billion, a top official said Monday, as financial markets rebounded from a massive freefall.
Deputy Prime Minister Bulent Arinc also fired off a new salvo against a powerful group that the government charges is behind a sweeping corruption probe that has shaken the very core of Erdogan's adminstration.
He said the government was working on a legal plan against judges and prosecutors accused of wrongdoing or abuse of power — a reference to the movement headed by influential US-based cleric and former ally Fethullah Gulen.
He said the graft probe was a "plot aimed at tarnishing Turkey's prestige at home and abroad", a frequent government refrain since the scandal erupted two weeks ago.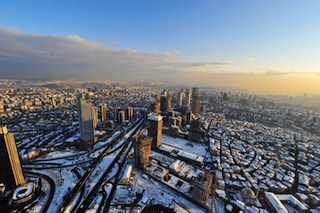 "We are talking about damage of over $100 billion," Arinc said after Erdogan hosted his first cabinet meeting since a major reshuffle last week forced by the resignation of three ministers over the probe.
Turkey had been seen as a model of democracy in the Muslim world and an emerging economic power but the crisis sent its currency and shares plunging.
However, the lira rallied to 2.1239 against the dollar Monday after hitting a record low of 2.17 last week as Erdogan faced mass protests and growing calls to resign.
The Istanbul stock exchange surged 6.42 percent.
Erdogan, struggling to keep his grip on power after 11 years as the country's almost unassailable strongman, has vowed he would survive what he has branded a "dirty" plot to try to topple him.
A string of public figures including high-profile businessmen and the sons of three ministers were rounded up on December 17 over allegations of bribery for construction projects as well as illicit money transfers to sanctions-hit Iran.
Local media reports have also suggested his son Bilal may face investigation.
The government has suggested that Gulen loyalists, who wield considerable influence in the police and judiciary, were forcing the corruption inquiry to undermine Erdogan in the runup to the March elections.
"This operation is an assassination attempt ahead of elections," new Interior Minister Efkan Ala was quoted as saying by pro-government Sabah daily.
"This is almost a coup to topple the government."
The turmoil has exposed rifts within Erdogan's own Justice and Development Party (AKP) and the simmering power struggle with Gulen.

Load more