Arsenal are likely to be without Aaron Ramsey for three weeks as Gunners manager Arsene Wenger deals with a potential injury crisis heading into the New Year.
Welsh midfielder Ramsey is on the sidelines with a thigh problem suffered in the 3-1 win at West Ham United on Boxing Day, but he is not the only player missing for the New Year's Day clash against Cardiff City.
Striker Olivier Giroud will definitely miss the game because of an ankle problem, while German playmaker Mesut Ozil is also sidelined, with the club awaiting results of a visit to a shoulder specialist.
Full-back Kieran Gibbs definitely misses out because of a calf strain, and fellow defenders Nacho Monreal and Thomas Vermaelen have both been laid low by illness.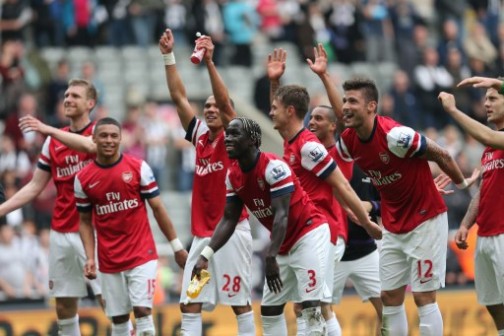 In addition, midfielders Tomas Rosicky (calf) and Jack Wilshere (ankle) were both due to face fitness tests later on Tuesday, as was England forward Theo Walcott, who picked up a shoulder problem in the 1-0 win at Newcastle.
The situation has removed the focus away from the fact that Arsenal head into 2014 on top of the table, a point clear of Manchester City.
"You need a good memory because we have plenty of problems," said Wenger.
"Ramsey and Ozil are out. Ramsey (for) three weeks and Ozil has seen a specialist last night (Monday), I haven't got a report yet.
"We lost Gibbs at Newcastle with a calf strain. We have as well Monreal and Vermaelen, who are not sure to be ready because they come just back from illness, then we have uncertainty about Rosicky, Wilshere and Walcott."
However, Wenger insisted that France striker Giroud, who scored the winning goal at Newcastle, should be back in time for the weekend FA Cup tie against Tottenham Hotspur.
"Olivier is a strong structure and he recovers quite quickly," said Wenger.
"He thinks he will be alright for Saturday, but the medical people think he will be a bit short. He is quite optimistic about it."
In Giroud's absence, Wenger must decide whether to start Lukas Podolski, who scored on his return from a four-month injury lay-off at Upton Park, or Nicklas Bendtner in attack against the Bluebirds.