President Jonathan will in his second and major New Year message to Nigerians roll out a list of his "achievements" in the past year, to debunk criticisms by the political opponents that his government has failed.
His first message issued earlier today dealt with the 100th anniversary of the amalgamation of the different tribes in the geographical entity now called Nigeria. President Jonathan asked Nigerians to continue to forge a sense of unity.
Among the claims he will make in his national broadcast on Wednesday morning, is that his government created an astounding 1.6 million jobs in 2013 alone. But he will not clarify in which sectors the jobs were created.
"Our national budget for 2014 which is now before the National Assembly is specifically targeted at job creation and inclusive growth," he will say, according to a posting by Saharareporters.com, working with an advance copy of the speech that he would read Wednesday morning.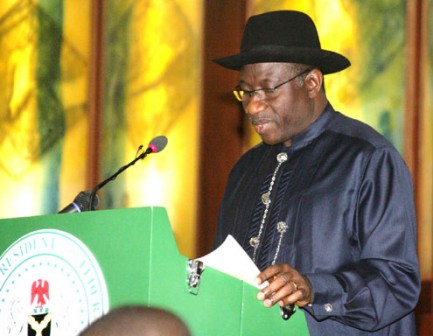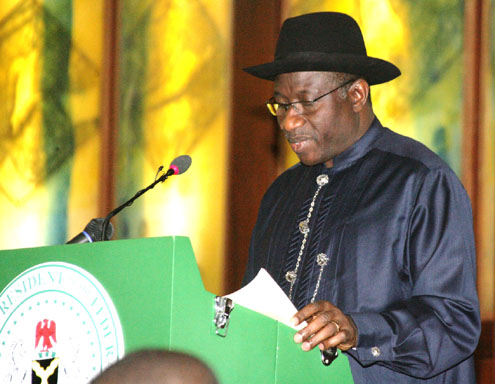 "We are keenly aware that in spite of the estimated 1.6 million new jobs created across the country in the past 12 months as a result of our actions and policies, more jobs are still needed to support our growing population. Our economic priorities will be stability and equitable growth, building on the diverse sectors of our economy."
Mr. Jonathan will not say anything about the challenge of leading by example, and will only refer to corruption and bad governance, in passing. His critics blame him for directly nurturing and promoting corruption and the culture of impunity in the country.
"I urge all Nigerians, no matter their stations in life, to rededicate themselves to contributing meaningfully to further enrich our national heritage. The time for that re-dedication is now, not tomorrow," he will say, referring to the 2014 being Nigeria's centenary year.
He will reiterate that the amalgamation of 1914 was a blessing rather than a mistake, and called on Nigerians as they celebrate the landmark, to continue to work together to be "even greater" as one, united people.
"Whatever challenges we may have faced, whatever storms we may have confronted and survived, Nigeria remains a truly blessed country, a country of gifted men and women who continue to distinguish themselves in all spheres of life, a country whose diversity remains a source of strength. We pay tribute today, as always to our founding fathers and mothers, and all the heroes and heroines whose toil and sweat over the century made this country what it is today."
On the issue of peace and security in the country, he will tell compatriots that his government will do more in 2014 to further empower the security agencies who are working in partnership with the international community to stem the scourge of terrorism in our country.
To justify that he has not been cavalier in handling the terrorism issue, he will say in his broadcast , that the allocation of over N600 Billion to Defence and Police Force in the 2014 Budget attests to this commitment.
Mr. Jonathan will also highlight, among others:
• The commencement of the National Industrial Revolution Plan in 2013, aimed at industrializing Nigeria and diversifying our economy into sectors such as agro-processing, light manufacturing, and petrochemicals;
• Nigeria moving from a country that produced 2 million metric tonnes of cement in 2002 to a country that now has a capacity of 28.5 million metric tonnes; for the first time becoming a net exporter of cement;
• A revolution in the agricultural sector, where 4.2 million farmers obtained their fertilizers and seeds directly through an e-wallet in 2013;
• Nigeria produced over 8 million metric tonnes of additional food in 2013 and inflation fell to its lowest level since 2008 partly as a result, the nation's food import bill reducing from N1.1 trillion in 2011 to N648 billion in 2012;
• Between 2007 and 2013, the government has almost tripled the allocation for education from N224 billion to N634 billion; and
• Nigeria is building strong safety nets and improving access to primary health care under the Saving One Million Lives programme, and in 2013 recruited 11,300 frontline health workers who were deployed to under-served communities across the country.
Mr. Jonathan will promise that in 2014, his government will continue to prioritize investments in key sectors such as infrastructure development, power, roads, rail transportation and aviation.
"We shall boost investments in transmission to ensure power generated is properly evacuated and distributed," he will say.
"In this regard, we have already mobilized an additional $1.5 billion for the upgrade of the transmission network in 2014 and beyond. Government will also strengthen regulation of the sector, and closely monitor electricity delivery to increase this beyond 18 hours per day. We will complete the privatization of the NIPP projects, accelerate work on our gas pipeline infrastructure and also continue to invest in hydro-electric power and clean energy as we monitor the effects of climate change on our economy."
He will say his administration believes that the cost of governance in the country is still too high and must be further reduced, and would therefore take additional steps to stem the tide of corruption and leakages, including curtailing foreign travel by government personnel will be further curtailed.
But like in the past, he will not spell out how he would recover public faith in his government that has been shattered by his refusal to declare his assets publicly, his protection of corrupt government Ministers and the state pardon granted his corrupt friends, all being elements that are known to curtail or compromise every government's best initiatives.

.reported by Saharareporters.com