The Ekiti State Government in western Nigeria, has completed its N25 billion bond issuance programme with second tranche offer for subscription of five billion naira at14.50 per cent fixed rate.
The state under the second tranche raised the sum of five billion naira for capital projects through book building. The application list opened and closed on Dec. 31, 2013.
A breakdown of the offer document made available to NAN showed that N1.58 billion is earmarked for the construction of Ekiti-Kete Pavillion in Ado-Ekiti.
The rehabilitation of Ire Burnt Bricks Ltd in Ere-Ekiti will gulp N966.89 million, while River Ero bridge construction will take N220.36 million.
Also, construction of Ilawe-Igbaraodo Ibuji road will take N894.69 million, while the sum of N1.14 billion will be used for Ikole-Ijesa Isu-Ilumoba road.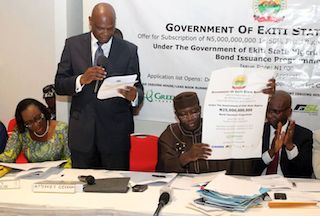 Speaking at the completion board meeting held in Lagos, Dr Kayode Fayemi, Ekiti State Governor, said that the funds raised would be used for completion of critical projects.
Fayemi said that the bond was primarily for regenerated projects that would yield dividends to the people of the state, adding that the funds would complement the N20 billion first tranche.
He emphasised that the purpose of the bond was to complete regeneration exercise started in the state two years ago to fast track economic growth.
"In the next one year, all the projects, mapped out for the bond purpose, will be completed and these are not paper projects," Fayemi said.
The governor also commended investors for the confidence shown to the state's bond issuance programme, adding that they would not be disappointed.
Fayemi lauded the Securities and Exchange Commission (SEC), Debt Management Office (DMO) and the Ministry of Finance for ensuring the success of the bond.
NAN reports that the lead issuing house/ lead book runner to the bond is Greenwich Trust Ltd., while joint issuing houses/co-book runners are FBN Capital Ltd and Fidelity Securities Ltd,.
Others are Morgan Capital Securities Ltd., Sterling Capital Market Ltd. and Skye Financial Services Ltd.
NAN also reports that investors in the bond include Ecobank, Skye Bank, Wema Bank and Diamond Bank, among others.