President Goodluck Jonathan has agreed to appoint a Surgeon-General of the Federation as demanded by the Nigeria Medical Association (NMA), a competent source in the Presidency, has said.
The source, who pleaded anonymity, made the disclosure today in Abuja.
The source told NAN that Jonathan made the concession after a meeting he summoned to avert the NMA Jan. 6 planned industrial action.
The source said the person to be appointed to occupy the position would be a medical doctor. The NMA demanded that the Federal Government should appoint a medical doctor as Surgeon-General of the Federation.
The source said the president had agreed that the call duty allowance of the doctors running into billions of naira be paid. The source said that following the demand of the association, the appointee would be responsible for public health.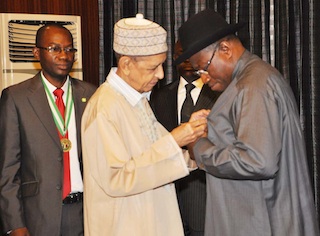 "The government has taken a decision to appoint a Surgeon-General of the Federation who will be a medical doctor and will be responsible for public health."
"That appointment will be announced soon," the source said.
The source said Jonathan had directed the Ministry of Health to collaborate with Ministries of Finance, Trade and Investment in consulting with medical practitioners to supporting private investors to build state-of-the-art hospitals in the country.
The decisions, the source explained, were aimed at promoting local potential, improving fiscal policy on medical equipment and checking the growth of medical tourism.
The source said Jonathan also directed that before any government official would be allowed to travel abroad for medicals, government must first be satisfied that no such medical services exist in country.
According to the source, the president has also agreed to reform the National Health Insurance Scheme to make it more productive. The source said the president had also consented to the demand of NMA to make its representation to the Nigeria Institute of Policy and Strategic Studies, Kuru.
The closed door meeting which was the fourth since December 2013 was attended by Governor Emmanuel Uduaghan of Delta, Ministers of Health and Labour, Prof. Onyebuchi Chukwu, and Chukwuemeka Wogu.
The meeting held at the presidential Villa was also attended by the Director-General of Budget Office, Dr Bright Okogu; and the Chairman of the National Salaries, Incomes and Wages Commission, Chief Richard Egbule.
Government had earlier met another demand by the NMA by re-constituting the Medical and Dental Council of Nigeria. In an interview with State House correspondents Uduaghan said that the president conceded some demands by NMA to avert the strike.
Uduaghan, who did not reveal the concessions, said that the nation could not afford another strike in the medical sector. The governor, who is a medical doctor, said the government team would later meet with the NMA on the new development.