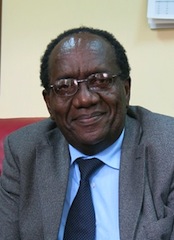 Tanzania's finance minister William Mgimwa has died of natural causes at a Pretoria hospital, the South African government said Thursday.
He died on New Year's day after undergoing treatment for an unnamed illness, the treasury said in a statement.
Mgimwa had spearheaded rapidly growing Tanzania's drive to tap global bond markets to fund investment and tackle poverty.
He had masterminded a maiden eurobond worth as much as $1 billion — although the project remains unfulfilled as the country waits for a credit rating and battles a weaker-than-expected fiscal position.
Mgimwa would have been 64 this month.
He was a veteran of Tanzania's National Bank of Commerce, where he rose from accountant to director, according to his parliamentary biography.
He was elected to parliament in 2010 and appointed minister of finance in 2012.
In a statement Mgimwa's South African counterpart Pravin Gordhan described him as someone who "keenly appreciated the importance for African countries to strengthen their economies" in order to ensure stability and attract investment."
The economy of Tanzania, a country of 48 million people, is expected to grow at around 7.2 percent this year, according to the International Monetary Fund.