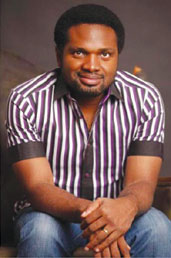 On the first day of 2014, seasoned music producer Cobhams Asuquo, served his numerous fans with the release of a brand new single "Ordinary People".
The new song is a first cut from his Christian album.
In this song, Cobhams calls everyone to give the best of their ability in the daily journey of life.
"Ordinary People is a testament to the latent power in the common man…We are all ordinary people with ordinary desires, demands, strengths and expectations: but we are all capable of doing extra-ordinary things…," Cobhams said.
In 2011, Cobhams ventured out from the producers' seat and into the vocal booth to put some of his most loved songs into an inspiring self-published contemporary Christian album.
"This is a message delivered straight from the heart of one who knows; Cobhams was born blind and has achieved all he has by sheer determination, willpower and faith in God," a statement from his PR camp reads.
Cobhams is a Nigerian- born musician with an enviable track record in (music) production, writing, and singing.
He is also the CEO of Cobhams Asuquo Music Production (CAMP); a music label and production company that serves as a home to Bez and Stan Iyke.
—Funsho Arogundade