FUNSHO AROGUNDADE
Pop music star, D'Banj is known for entertaining his legion of fans while on stage but no one ever imagined that he would go to the extreme of grabbing a female fans' bum on stage during a show broadcast live across Africa.
The singer, while performing on New Year's Day at an exclusive stars concert of the Lagos Countdown 2013 witnessed by top Lagos State government officials and corporate executives, invited two ladies from the crowd to the stage.
While on stage, the ladies were made to sing along some lines from the Kokomaster's songs. Afterwards he at different time made some sexual gestures and went on to squeeze the ladies' bums to the embarrassment of all.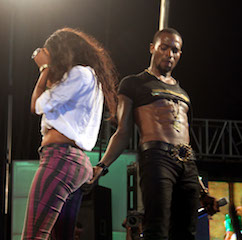 "The way some of these celebs disrespect the women folks self… If it was a non-celebrity that did that now, the ladies would have slapped the hell out of his mouth and started shouting for the whole world to hear," Morakinyo Olugbiji, a music writer commented.
D'Banj, who obviously was carried away by the act, is becoming notorious for such indecent act whenever he performs.
At the grand finale of the 2013 Felabration in October last year held at the Afrika Shrine, Ikeja, D'Banj during his performance also invited a female fan on stage and after a while made the lady to lie on her back while he went on to enact an erotic session with the lady.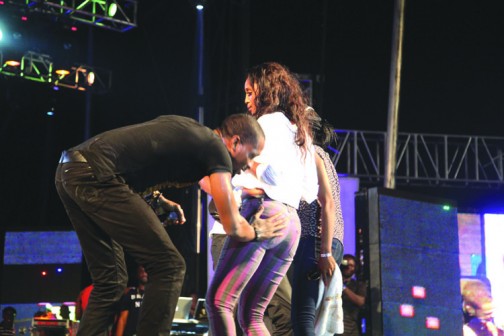 He was also said to have been booed out of the stage in far away Zimbabwe at the 'Battle of Africa' concert when fun seekers felt the singer overstepped his moral boundary when he introduced erotic dance on stage.
"Let me see all my Kokoletes on stage, now shake your boom boom and do the catwalk," D'Banj was quoted to have said.
The sexual gestures of the ladies attracted instant opprobrium from the Zimbabwean fans who booed the music star off the stage.