Pretty Feyisekemi Akinwale, the 19-year old winner of the 2013 Next Movie Star Africa Reloaded Edition, has said she is fully prepared to take up any role and make her mark in the Nigerian movie industry.
The French undergraduate of Ekiti State University said given the opportunity, the sky is the beginning for her.
"I am ready for any script, movie auditions and ultimately, locations. I am charged up to deliver and won't relent on the fact that I came tops among scores of talents that were also deserving of the title," Feyisekemi told P.M.NEWS Entertainment Cafe.
According to her, she is not expecting things to be easy the same way she was thinking prior to her coming to the NMS house.
"I know it is not going to be easy living up to the standard already set by the array of stars that has been produced through the NMS platform but with God on my side and determination, I will hold my own and succeed," she added.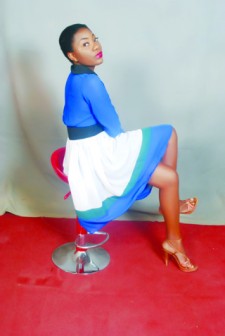 On how she will achieve this task, Feyisekemi, who has Google to thank for stumbling online on the information for the audition, said she is ready to build herself, embrace mentorship, research and learn from others who have been in the industry before her.
"It is not enough to say you are talented, you have to read and research. I'll surely search for a mentor to guide me through the path to greatness and success. You can't buy experience, so, I will surrender myself to learn from those who are treading this path so that they will help navigate my way through," the budding star said.
Feyisekemi emerged the new winner of NMS Africa Reloaded edition early December 2013. She contested against other housemates from other African countries such Ghana, Sierra Leone, Liberia, The Gambia, Kenya, Namibia, South Africa and her compatriots, Nigeria.
She later won the hearts of NMS eminent jury that included veteran actress, Racheal Oniga; Stephen Osezua, President of the Independent Television Producers Association of Nigeria, ITPAN; Pat Oghre-Osezua, renowned actress cum director; Halimat Aitsegame, winner of the Next Movie Star 2012; and Bridget Chigbufue, Vchannel presenter and first runner-up, Next Movie Star 2012.
"I believe there is the God factor in my coming top at the show. The grace of God, my hard work and my ability to study and get into the character really helped me," Feyisekemi said of what gave her a edge over her competitors.
The NMS reality show has produced established names such as Uti Nwachukwu, Karen Igho, Tonto Dikeh, Annie McCaulay-Idibia, Kevin Chuwang Pam, Tamara Eteimo, Lydia Forson and Adams Ibrahim over the years.
Apart from the instant stardom, Feyisekemi also won for herself a brand new SUV, cash prize and movie contract.
—Funsho Arogundade