FALLUJAH, (AFP) – Iraq has lost Fallujah to Al-Qaeda-linked fighters, a senior security official said Saturday, putting militants back in control of the city in Anbar province where American forces repeatedly battled insurgents.
And fighting in Anbar killed 65 people on Saturday — eight soldiers, two government-allied tribesmen and 55 militants from Al-Qaeda-linked group the Islamic State of Iraq and the Levant (ISIL), security officials said.
Parts of Fallujah and Ramadi, west of Baghdad, had already been held by militants for days, harkening back to the years after the 2003 US-led invasion when both cities were insurgent strongholds.
Fighting erupted in the Ramadi area Monday, when security forces broke up an anti-government protest camp set up after demonstrations erupted in late 2012 against what Sunni Arabs say is the marginalisation and targeting of their community.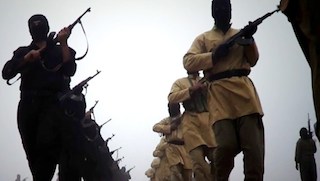 The violence then spread to Fallujah, and a subsequent withdrawal of security forces from areas of both cities cleared the way for militants to move in.
"Fallujah is under the control of ISIL," a senior security official in Anbar told AFP, while the city's outskirts were in the hands of local police.
An AFP journalist inside Fallujah also said ISIL seemed to be in control, with no security forces or Sahwa anti-Al-Qaeda militiamen visible on the streets.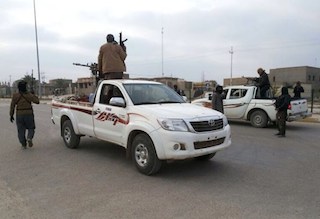 Meanwhile, Iraqi ground forces commander Staff General Ali Ghaidan Majeed said security forces killed 25 ISIL fighters in Albufaraj, near Ramadi, and 30 in Garma, close to Fallujah.
Eight soldiers and at least two government-allied tribesmen were also killed in fighting in the Ramadi and Fallujah areas, security officials said.
Majeed said there are three groups involved in the fighting: security forces and allied tribes; ISIL; and forces of the anti-government "Military Council of the Tribes".
Iraqi Prime Minister Nuri al-Maliki vowed Saturday to eliminate militant groups in Anbar.
"We will not back down until we end all terrorist groups and save our people in Anbar," Maliki was quoted as saying by Iraqiya state television.
On Friday alone, more than 100 people were killed in Ramadi and Fallujah, in the country's deadliest single day in years.
Hundreds of gunmen, some bearing the black flags often flown by jihadists, had gathered at outdoor weekly Muslim prayers in central Fallujah on Friday, where one militant announced that "Fallujah is an Islamic state," a witness said.
The city was the target of two major assaults after the 2003 US-led invasion, in which American forces saw some of their heaviest fighting since the Vietnam War.
American troops fought for years, aided by Sunni tribesmen in the Sahwa militia forces from late 2006, to wrest control of Anbar from militants.
Militant power rising
The US forces suffered almost one-third of their total Iraq fatalities in Anbar, according to independent website icasualties.org.
But two years after US forces withdrew from the country, the power of militants in the province is again rising.
ISIL is the latest incarnation of an Al-Qaeda affiliate that lost ground from 2006, as Sunni tribesmen and former insurgents joined US troops against jihadists in a process that began in Anbar and came to be known as the "Awakening".