Gov. Martins Elechi of the eastern Nigerian state of Ebonyi on Friday restated his support for the proposed Federal Government's national conference. He made this known when he fielded questions from State House correspondents shortly after a closed door meeting with President Goodluck Jonathan at the Presidential Villa.
He said the earlier media report, which claimed that he was against the national confab, was an organised attempt by the opposition to pitch him against the Federal Government.
The purported report had quoted Elechi as saying that the proposed national conference would yield no positive results.
"You must have read my Chief Press Secretary's reaction to that report as well as the reaction of the PDP. These are people who know me well and know what I stand for. So, I am not distracted by such organised attempt by the opposition to bring friction between me and the establishment.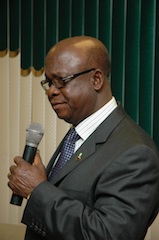 "They will not succeed. We are all for the national conference. And for those who do not know, I led my state to the national political reform conference of 2005 and I know the benefits accruing from it.
"Sometimes because of our inability to express ourselves properly, people do not really capture what we say. They go about misquoting or are actually mischievous. I cannot be against that," he said.
Elechi also carpeted the opposition for "mischievous, blind and unguided'' criticism of the PDP-led administration, adding that the Jonathan-led administration had done well in spite of the challenges.
"Do not mind all the noise being made by the opposition. That is their only weapon to frighten the people and give the impression that they are better. They are getting nowhere. I am happy with the state of affairs and I believe we will make more progress. We have done well that is my honesty impression.
"There are challenges ahead even develop nations have challenges; therefore, we should not expect it to be a bed of roses always. The more we try, I think the better the result, but we must be patient and steadfast.
"We should also have confidence in ourselves, in the leadership of the nation. It is a matter of time.''
The governor said the economic indices released by several international rating and peer reviewing bodies scored the country high.
According to him, Nigeria is now surpassing South Africa in spite of all the challenges we have within and our democracy is waxing.
On the centenary, Elechi also said that the nation had fared well, adding: "we are so populous, so heterogeneous with ethnic diversity and religious multiplicity.
"It is not easy to galvanise such a body into a smooth organisation called the government or a country. So far, we have been passing through challenges. These are challenges of development, poverty and illiteracy, but if you think of where we were even 50 years ago not to talk of 100 years ago, compared that to where we are today, we have every reason to give thanks to God.''
He said his visit to the president was routine and to hold consultations.