World number one Rafael Nadal defeated France's Gael Monfils 6-1, 6-7 (5/7), 6-2 on Saturday to win the Qatar Open.
It was Nadal's 61st career title and took him to eighth on the all-time list, passing Andre Agassi.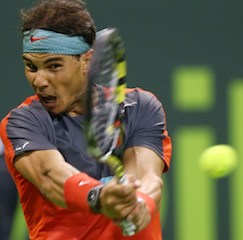 Nadal took his record over Monfils to 9-2.
"I never had the chance to win here before. I had match points against Davydenko in the final a few years back," said Nadal, who was runner-up to Russia's Nikolay Davydenko in 2010.
"I'm happy to start the season like this, it's the first time I have won a title in the first week of the year.
"It's a great way to start the season. I'm sure that if Gael keeps playing like this, he will be close to the top 10."
The Frenchman had achieved both his wins over the Spaniard in Doha, in 2009 and 2012.