Six people were killed and polling stations firebombed as Bangladesh went ahead on Sunday with a walkover election boycotted by the opposition.
With the fear of attacks limiting turnout and around 150 people killed in the build-up to voting, tens of thousands of troops were deployed across the country.
But police said more than 200 polling stations had been attacked since late Saturday into early Sunday, and officers guarding the booths were also targeted.
The ruling Awami League has accused the main opposition Bangladesh Nationalist Party (BNP) of orchestrating the violence, and has kept its leader under de facto house arrest while she fumes over what is effectively a one-party contest.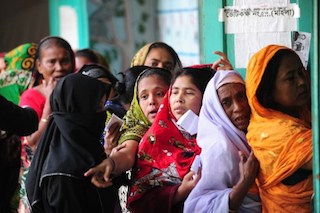 Some of the worst violence was in the northern district of Bogra, which is a BNP stronghold.
"We've seen thousands of protestors attack polling booths and our personnel at a number of locations with Molotov cocktails and petrol bombs," Bogra's police chief Syed Abu Sayem told AFP.
"The situation is extremely volatile."

There were similar reports in the northern Rangpur region, where police said they had shot one person dead as protesters snatched stacks of ballot papers.
Two other opposition activists were shot dead by police in similar incidents elsewhere in the north, and a fourth in the coastal Feni district.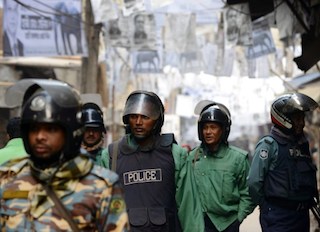 A polling officer who was beaten up by a group of opposition supporters died of his injuries, as did a truck driver whose vehicle had been firebombed.
With the opposition trying to enforce a general strike as part of a strategy to wreck the polls, officials admit turnout could be worse than the previous low of 26 percent in a rigged 1996 election.
AFP correspondents in the capital said there were no queues outside polling stations when they opened.
The outcome of the contest is not in doubt as voting is taking place in only 147 of the 300 parliamentary constituencies. Awami League candidates or allies have a clear run in the remaining 153.
Prime Minister Sheikh Hasina's government says it had to hold the vote after parliament's five-year term expired.
"Yes, the festive mood is missing but this election is essential to ensure constitutional continuity," deputy law minister Quamrul Islam told AFP.
The BNP, the largest of 21 parties who are refusing to take part, has called them a "scandalous farce".
Its leader Khaleda Zia has been confined to her home for the last week, with riot police and water cannon posted outside her Dhaka residence.