The Prelate, Methodist Church of Nigeria, Dr Samuel Uche, on Sunday advised President Goodluck Jonathan to beware of sycophants.
Uche gave the advice during the church's Covenant Service at the Methodist Church of the Trinity, Tinubu, Lagos.
"Some people in the corridors of power do not understand the problems of the country and that's why they are not advising the president appropriately,'' he said.
The prelate urged Jonathan to improve the standard of living of Nigerians and pay less attention to criticism.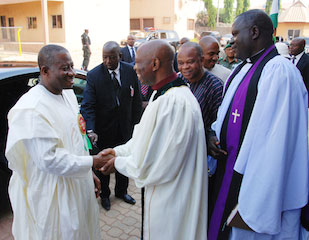 The cleric said he foresees a better and greater Nigeria and urged Nigerians to pray for the president and those in leadership.
"Challenges are all over the world, even as a father, I have the challenge of running my house, there is challenge in ruling a small community.
"As the Prelate of Methodist Church, I know the heat that I am facing whereas I am only managing about six million people. If you compare it to someone managing the whole country it is not easy.
"Jonathan is not responsible for all the challenges confronting us as a nation. If he (Jonathan) needs to know what is happening to the people at the grass roots, he should consult credible religious and traditional rulers and they will tell him the truth," he said.
The cleric urged the Federal Government to create jobs for youths to tackle the problem of insecurity in the country.
"The rate of unemployment is very high and as an alternative, people are creating odd jobs for themselves which is the major cause of insecurity. I strongly advise the Federal Government to create jobs and empower the youth. That is the only way insecurity can be checked,'' he said.
The prelate said that youth empowerment would create an enabling environment for young people to contribute positively to national development.
He also called for parliamentary system of government in Nigeria.
According to him, the presidential system of government is the most expensive system practiced in the whole world.
"It is not the best for a developing country like Nigeria. With presidential system of government, you may end up using one third of the total annual budget to service political office holders at the expense of infrastructural development," he said.