Simon Ateba/Lagos
Tunde Olawuwo, an Area pastor with the Redeemed Christian Church of God, RCCG, and a senior manager at Red Star Express, a courier company, has been murdered.
His killers were not just content taking his life, they disembowelled him and placed his intestines on his chest, sources said.
Sources said Olawuwo was killed at about 4 a.m on Sunday at his residence in Magboro area of Ogun State, western Nigeria.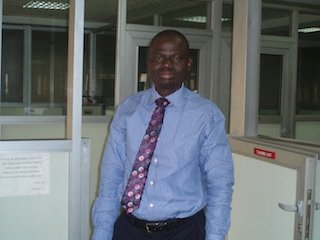 The deceased, in his early 50s, was the Chief internal Auditor at Red Star Express PLC and an area pastor in Mount Zion Parish, Agiliti, Mile 12. The parish is under Lagos Region 2, Province 13, Gbagada.
Sources said the killers arrived the pastor's house at about 2am but could not gain entrance into the house until 4am.
They broke in through the window and began shooting into the ceiling where the pastor was said to have hidden.
The deceased was said to have fallen from the ceiling and was shot several times by the killers.
Sources said pleas by his wife were ignored as the killers cut him open and brought out his intestines and placed them on his chest.
Olawuwo was born on 7 June and on 8 June this year, he thanked well-wishers on his Facebook page.
"I thank God Almighty for Birthday gift He has given to me. I say thank you to my creator," he said.
He added: "Also, I want to seize this opportunity to appreciate everyone that has wished me well on my Birthday. The God of wonders will visit you today in a special way in the name of Jesus Christ."
He attended Yaba College of Technology class of 1983.
He attended Awoyemi Commercial High School, Okeho before proceeding to Yaba College of Technology class of 1983 where he bagged a Higher National Diploma.
Anita Mbaegbu, who commented on the deceased Facebook page said: "Another dark Sunday in Fedex. Adieu Tunde Olawuwo man of the people."