Okafor Ofiebor/Port Harcourt
The Deputy Speaker of the Rivers State House of Assembly,Leyii Kwanee has cautioned the police to stop overheating the polity.
Speaking to newsmen today at the International Airport,Omagwa, on arrival from Lagos where he went for a church programme, the Deputy Speaker said it was wrong for the police to arrest the leader of the House, Chidi Lloyd in a case of accident where he was not the driver but a passenger.
He said there is no traffic offence that makes a passenger culpable. He argued that even if there is a case of manslaughter or reckless driving, it is the driver that may be the offender and not the leader.
He wondered what aspect of the law that the police were invoking, if not a show of partisanship and vendetta.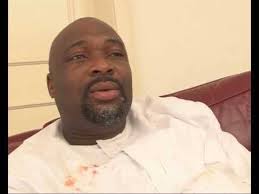 "By my training as a lawyer,I know that sections 36(5) of the 1999 constitution guarantees presumption of innocence in favour of an accused. Facts made available to me show that the leader who is still physically weak was not driving the car as at the time the accident occurred. That the leader was himself injured in the unfortunate accident. That the driver of the vehicle had since reported to the police and co operating with the police.
"The question is why arrest the leader when he was not the driver of the vehicle?"
Kwanee who is also the chairman,Parliamentary Exchange and Mentorship Programme of the Pan African Parliament,said that it was because of this reason that well meaning Nigerians have been calling for the redeployment of the Commissioner of Police,Mr. Joseph Mbu, said to getting instructions from the President's wife, 'Mama Peace' Patience Jonathan.
The Deputy Speaker further said that the development was a calculated attempt to drag the State governor's name into the mud and demonize the leader of the House.
He also said the development portends danger for our democracy and advised the police to be professional and shun any attempt by anyone to use them to cause disorder and choas in Rivers State in order to declare a state of emergency to give PDP an advantage before the 2015 general elections.
"The police should not overheat the polity with any sensational report likely to mislead the good people of Rivers State.

Load more