A fake officer of the Lagos State Traffic Management Authority, LASTMA, has been remanded in Kirikiri Prison, Lagos, southwest Nigeria over extortion of motorists.
The fake LASTMA officer, Obalufemi Obadeyi, was arrested by a patrol team of LASTMA on Saturday, 28 December, 2013 and was later arraigned before an Ikeja Magistrate's  Court  for impersonating  as an official of the agency to extort money from unwary motorists.
The accused, a 33 year old graduate of Business Administration from the Yaba College of Technology, was employed into the Lagos State Civil Service in 2002, before he was dismissed by LASTMA for misconduct in August, 2006.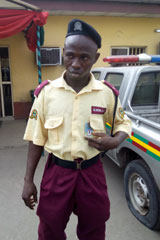 After his dismissal, he was said to have sewn a new LASTMA uniform and changed his name to avoid being detected.
According to the prosecuting officer, the father of one was arrested by the patrol team of LASTMA after receiving a tip off from some motorists who reported illegal activities of someone parading himself as an official of the agency while extorting money from them at Ojuelegba area of Lagos.
The agency patrol team responded to the call and subsequently arrested the suspect as he was demanding money from a motorist for not using a seat belt.
P.M.NEWS learnt that the accused was fully kitted in LASTMA uniform with his accomplice in mufti holding a walkie talkie and negotiating for money at the time of arrest.
Realisng that the game was up, Obadeyi made efforts to escape but was arrested, while his accomplice escaped.
Obadeyi reportedly  admitted impersonating LASTMA official using  a fake name tag-Olufemi A.O.
He allegedly confessed to be actively involved in many of such illegal activities around  the area.
The suspect said that he was advised on dismissal from service to hand over all the agency's paraphernalia in his possession, but deliberately held onto his old identity card he had declared missing before his dismissal.
Whem he was arraigned in court, the suspect pleaded guilty to the two-count charge of impersonation and extortion.
The magistrate presiding over the case, Mrs. Dan Oni, ruled that the accused be remanded in  Kirikiri Prisons till 16 January, pending  when sentence would be passed.
Meanwhie, the General Manager of the agency, Engr. Babatunde Edu, said that  it was disheartening that some unpatriotic Nigerians were exploiting innocent people for their selfish interest.
He said this against the backdrop of several petitions/complaints of extortion from the public and thereby described the act as fraudulent and exploitative.
Edu warned motorists to be wary of officers demanding money from them and maintained that the agency operates a cashless operation and should not hesitate to report any officer acting contrary to the directive.
—Kazeem Ugbodaga